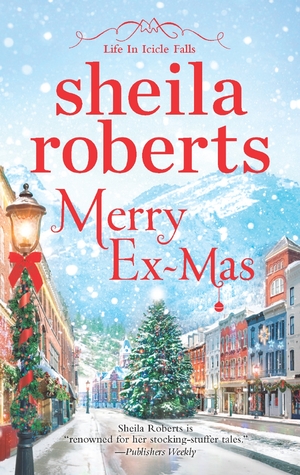 Talk about walking on egg shells and the potential for disaster. Having all your exes showing up for the holidays sounds like a total nightmare but Ms. Roberts proved that for some, divorces for the wrong reasons are extra hurtful when it's discovered the marriage was for all the right reasons in the first place. But who will the lucky couple be?
The one thing I've discovered about Ms. Roberts' writing style is she likes her stories busy. It's very similar to a real community where lives overlap and everyone affects someone else because there's a history. I don't know everyone in Icicle Falls but I've read a few books written after this one and what I find interesting is that they are solidly standalone books. There might be a few extra characters that don't really have anything resolved but they help out the ones that do in the current book. That's sort of the case here and yet, their POV is just as an important contribution as the main characters.
The cast is varied but it comes down to Cass, Ella and Charley. Ella's I could figure out, Charley was a heart wringer and Cass was fascinating. I cracked up about Cupcake the dog and yet, the dog's antics provided insight between two characters that come to terms. It's amazing how the author took every day mundane events and made them relevant and heavy with substance and meaning.
I enjoyed how the ladies had each other's backs and how they were there for each other through thick and thin. Not everyone has those types of friendships but I know they exist and if a person is lucky to have them, they more than probably resemble the ladies from Icicle Falls. I also like how the role of pets assists with the storytelling. It gives the novel an everyday feeling making the characters relatable.
Inasmuch as I liked Cass, her story was a bit unbalanced. By that I mean that it seemed to play a huge role but there wasn't a true role yet I was made to believe there was something that was going to happen but her involvement wasn't the forefront but more her daughter's. It came across like Cass was the narrator of the story but lived within the story, was affected by it and affected it but wasn't the true focal point – if that made any sense.
Merry Ex-Mas is most definitely a character driven romance novel. It's about family, one broken made whole, relationships in all their complicated glory and yes, a happy ever after that makes the story worth reading. Ms. Roberts has made Icicle Falls a wonderful place to visit with characters readers want to come back and visit with. They have faults and flaws like most people and that's what makes reading about them so special. Happiness comes in different flavors and each novel about Icicle Falls is a unique treat.
Merry Ex-Mas has its moments of romantic genius and is a must read for fans of family/friends centered romances. It's a novel about love and life and is worth checking out.



Editor's note:
This article was originally published at Long and Short Reviews. It has been republished with permission. Like what you read? Subscribe to the
SFRB's free daily email notice so you can be up-to-date on our latest articles. Scroll up this page to the sign-up field on your right.