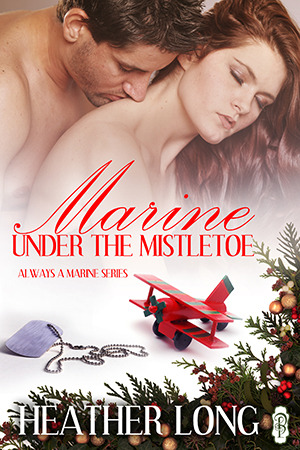 It's been years since Kaiden Nelson has made it home from a tour. Spending Christmas with his parents shouldn't be difficult after everything he's gone through as a Marine. Returning home with mixed feelings, he bumps into Rowan Harper, a delicious woman who joined their Circle a few years after he was deployed. With his mother playing matchmaker and his brain finding it difficult to return to civilian life, Kaiden has more than enough on his plate without the fierce attraction he instantly feels for Rowan. Kind and patient, she's everything he could imagine, but despite the festive season, there are some things he just can't let go of so easily.
I found this to be a romantic but realistic story. I really enjoyed how the author portrayed Kaiden. Equal parts grouchy and sensitive, it's easy to see how his duty and job have twisted his emotions up inside. Rowan is definitely his equal. She comes across as patient and sweet, but knows when to tease him or make him laugh. She also is sympathetic enough and understands — as much as a civilian can, at least — that life isn't simple for Kaiden. I really liked how her thoughtfulness explained to me as a reader exactly what Kaiden seemed to be going through, physically back home but still mentally and emotionally caught back in the war. It's a description that made me understand in a few simple sentences exactly what was going on and made the story much richer to me for it.
The author has done an excellent job of writing the slow burning chemistry between Rowan and Kaiden. I liked how neither jumped immediately on the other – even though Kaiden's mother had been slowly sowing the seeds of setting them up for years. I felt like the slow progress Kaiden and Rowan made really helped show how compatible they were, and how well they could fit together, despite Kaiden being unsure and Rowan not wanting to have her life meddled with. I enjoyed the romance blossom between them, and although I was eager to get to them really physically showing their affection, I couldn't fault the pace, as it was so clearly what Kaiden especially needed.
While I found the pagan religious aspects to the story well written and not "in your face", readers should be aware there is a very strong thread of plot through the entire story based around the Yule rituals, the Circle and even mention of the Skyclad parts of this religion. Personally, I found they deepened the story and were well-connected to Kaiden, his parents and the role paganism has in his and Rowan's life. I didn't feel as if it was pushed down my throat, but readers who might find the strong themes of paganism offensive may way to consider it before reading the book.
I found this to be a wonderfully emotional, romantic story with a smoking hot sex scene. I loved the strong, complex and deeply layered characters of both Kaiden and Rowan, and found Kaiden's parents to be great secondary characters. With a blissfully happy ending I feel this should have something to satisfy everyone. A great story I thoroughly enjoyed.



Editor's note:
This article was originally published at Long and Short Reviews. It has been republished with permission. Like what you read? Subscribe to the
SFRB's free daily email notice so you can be up-to-date on our latest articles. Scroll up this page to the sign-up field on your right.