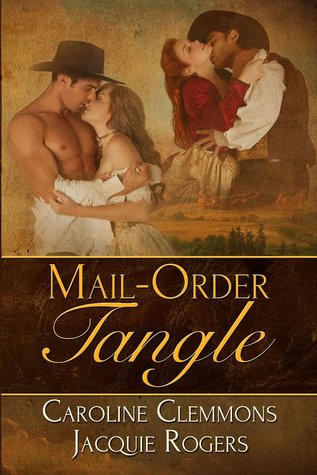 Sisters… so close to each other yet so different from each other. They are willing to do anything for their loved ones. Being Mail Order Brides is the last chance for a happiness in their lives.
Mail Order Tangle is a set of two books written by two different, popular and best selling western authors.
Mail Order Promise by Caroline Clemmons
Ellie Dickerson becomes a contract mail order bride to a Texas rancher. She agrees to marry to on one condition. Her sister gets to stay with them. However, upon arrival she finds out that her fiancé is dead.
Erik takes a promise from his younger brother Kage on his death bed, to marry his fiancé. A promise to a dying man is binding. Though Kage made the promise he is not willing to marry a city gal. Nonetheless he is willing to take care and make sure she and her sister have a home.
Kage wants a rancher wife. And is dead set that Ellie doesn't have what it takes to become one.
Through it all, there is someone lurking eager to do anything, even kill to get what he wants.
I was pretty surprised from the first chapter in how different the sisters were from each other. Ellie is a social butterfly. Much more comfortable interacting with other people in dinners and parties than being in the kitchen or cleaning. However, she gets no choice when her fiancé dies. The simple truth is, they can't go back from where they came. She sets herself to become the kind of rancher wife that Kage wants. Ellie is very stubborn. She makes a drastic transformation to become and survive being on a ranch.
I loved reading how she changed herself. Learning different tasks. Trying again and again until she gets it right. This is a Historical western romance novel. I expected guns and animals and all aspects of ranch life. I got all of that and more. The writing set the scene put me in the story. It was not only romance, for me there were times that made me smile like a fool while other times I couldn't contain the tears. There was a myriad of emotions to be felt while reading.
If a book can make you feel things then it's a very good book. This is a very good book.
Mail Order Ruckus by Jacquie Rogers
Matt Johannsen, cousin to Kage returns to the ranch that they built together before Kage had to go back to take care of his Erik's ranch.
Laura Dickerson, older sister to Ellie, is set on having Matt choose her for his bride; for that, she contracts to become a mail order bride in the same town where Matt lives.
Matt is hesitant to marry with his ranch taking all of the money that he makes. But he is put in a very tight place when he sees Laura with all the other brides. Laura is bound to get married, to him or someone else.
More, there is someone who wants to destroy Matt and his ranch.
Laura Dickerson met and fell in love with Matt. However, Matt is adamant. He will marry after one or two years after his ranch has gotten profit. Though this decision is taken out of his hands. I very much liked seeing how everyone came together and plotted behind his back so that Laura has every resource and advantage to get him married to her.
There was something about how the how the animals are depicted in these stories. It was terrifically funny. It really added a comic relief layer to the stories that kept them from being overly dramatic or serious.
It also portrays other mail order brides and their road to love. They find their love and it is entwined with Laura's. I loved hearing the other bride's stories. It is written in a way that the reader knows that Laura is the main character and the other brides are the secondary.
Perfect book to unwind at the end of the day and get lost.



Editor's note:
This article was originally published at Long and Short Reviews. It has been republished with permission. Like what you read? Subscribe to the
SFRB's free daily email notice so you can be up-to-date on our latest articles. Scroll up this page to the sign-up field on your right.