Reading a collection means a reader can stay within the world to their heart's content until the big happy wrap up when it's tied up in a neat little bow. I really enjoyed my stay in Ms. Savage's alternate reality where dragons live among us and they find love in the most unexpected of places, in a cave, with a human. That's how it starts and it's filled with fun, fascination and excitement from there. Fasten your figurative seatbelts because Ms. Savage delivers an enjoyable ride while being romanced by a dragon.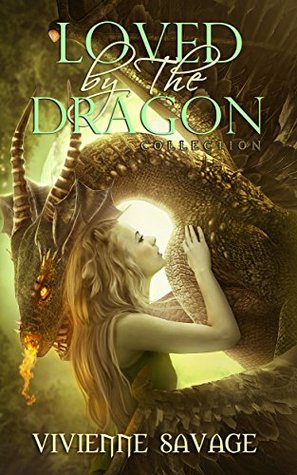 In the first novella, Saved by the Dragon, Chloe and Saul meet. Their initial contact was unusual, hot and complicated. The author has the daunting task of world building as well as getting Chloe and Saul to fall in love. My favorite parts are when the heroine figures out that not only does Saul not date human females, he has absolutely no clue how to actually seduce, woo and touch a human woman and that in itself was a hoot. Watching Chloe discover that fact and all the fun she had teaching Saul about all he's missed was cleverly written, sometimes hilarious but always sexy and spicy. Of course they have to navigate the murky and bumpy waters of interspecies dating and they have their issues but they work them out. It was entertaining watching the process.
Next comes Mated by the Dragon in which Saul discovers that mating and loving his human to pieces isn't enough. Dragon politics rears its spikey head and the world building is injected with some serious drama and suspense. Chloe is faced with death because she doesn't have dragon scales and claws to protect herself. What's a human female to do? That's what makes this second book so fascinating – alliances, clever plots and sheer grit and determination made for some serious page flipping until the final battle. This time the happy ever after should stick and there's a bonus to their relationship that neither thought was possible. It made it very romantic and sweet.
In the first two books, Chloe has a best friend, Marceline. But don't call her that, she hates it. Call her Marcy. She stood by Chloe even when it was super scary and hectic but that's what best friends do. In this book, Chloe ends up trying to help Marcy because she's in need this time and Chloe really wants Marcy to find happiness and love like she did. But, will it be with a dragon too? Marcy doesn't think so because the one that makes her tingle hates her. Or, does he? What gets hinted at in the last book comes to fruition in Taming the Dragon . Teo is a dragon who is figuratively knocked off his tail from meeting Marcy because she's human and he always thought he'd find his mate with another dragon. Imagine his surprise! He was SO surprised, he suffered from major 'open mouth, insert foot' syndrome every time he spent any length of time with Marcy. Sparks flew, tempers roared and entertainment for readers ensued.
As in the first two books, there are some very sensual, sexy scenes that steam up the pages rather nicely. I think the sexiest was when Marcy painted Saul's portrait. What Ms. Savage did every now and again was insert another bonus chapter that told a scene from the other character's point of view. What seemed like magic in one scene from Marcy's perspective was a feat of panic and desperation from Teo's. That cracked me up.
All in all the Loved by the Dragon Series was a lot of fun and I really enjoyed watching all of the main characters fall in love. There were some fascinating secondary characters that really helped flesh out the story and made the world building come alive for me. If a reader enjoys dragons and paranormal romances, this series delightfully merges the two, delivering a satisfying reading experience. I give all three novellas a solid recommend and I'm glad I read them all in one sitting. Time sure flew.




Editor's note:
This article was originally published at Long and Short Reviews. It has been republished with permission. Like what you read? Subscribe to the
SFRB's free daily email notice so you can be up-to-date on our latest articles. Scroll up this page to the sign-up field on your right.