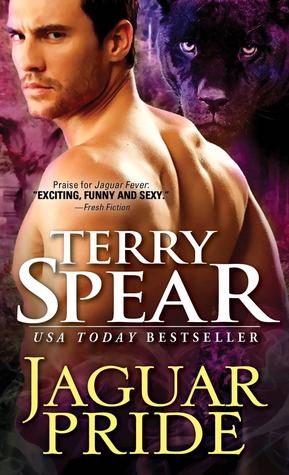 I really enjoyed how the author mixed up danger, exotic locations and romance with babysitting. The blurb only hints at the humor the story delivers when Huntley and Melissa try child care for the first time without any preparation or warning. What made it exceptionally challenging was the babies were part time furry jaguar cubs and potty time sure kept the hero and heroine hopping. Talk about a litmus test for parenthood!
Ms. Spear incorporated a lot of humor in her current adventure, Jaguar Pride. Some occasions were moments of lighthearted dialogue between Melissa and Huntley, and others were generated by watching two very capable and lethal agents turn to mush and being susceptible to the cuteness inherent in babies, human or cat, making the lead characters very human, relatable and interesting.
The bad guys are vile just by the nature of their activities. Kidnapping big jungle cats for profit is bad enough, but dealing with baby critters too is outright mean. The author made it very clear that poachers are to be reviled and are villains which, for the most part, are unable to be redeemed. I think the author was a bit heavy handed with dispatching the poachers left and right but in doing so reminds me of something I read at some point. I paraphrase, "Never get an author mad, she/he will write you into a book as a villain and give you your just desserts." If that's the case, well, no poacher should EVER cross Ms. Spear.
Most secondary characters were written well and supported Melissa and Huntley's mission. At times, the flow of events seemed too smooth and orchestrated but the end result is what's important. I believe the two guys from the Avenger branch were introduced to entice interest for future heroes. It didn't quite work for me because they were too one dimensional and convenient. Perhaps in the future readers will get a better hint as to their hero-worthiness. As it is, I liked Everett a whole lot better.
I consider Oliver a red herring, Genista a clarifier and the local police as part-time comic foils. It's a very busy book but no matter who is on stage, a reader is never left in doubt this is a solid standalone read about Melissa and Huntley falling in love during a mission. I really liked the chemistry between them and for readers who like falling in love to have a physical presence, Ms. Spear provides many opportunities for satisfaction.
Jaguard Pride is a nail biter of an adventure. It's steamy, humorous and chock-full of action to keep readers at the edge of their seats. Even though the topic is serious, the story isn't dark. The author focuses on the optimistic side of life even while dealing harshly with the dirty underbelly of poaching. It's a difficult balance but Ms. Spear pulls it off, providing readers with a thoroughly gripping novel. It's another winner.



Editor's note:
This article was originally published at Long and Short Reviews. It has been republished with permission. Like what you read? Subscribe to the
SFRB's free daily email notice so you can be up-to-date on our latest articles. Scroll up this page to the sign-up field on your right.