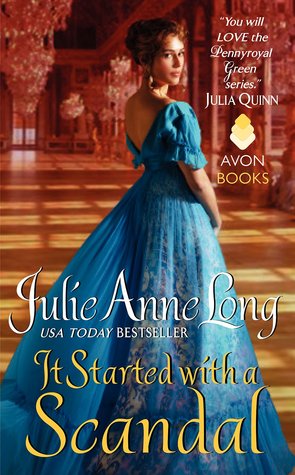 Elise Fountain made the mistake of falling in love with the wrong man. She trusted that her lover was honorable, but soon found herself abandoned and with a child on the way. Her shocked family cast her out, but the school where she taught kept her on. She had a relatively good life there, until a vindictive patron of the school had her dismissed. Now homeless and jobless, she has applied for the position of housekeeper in the residence of Lord Lavay.
Philippe is a French aristocrat with very blue blood, who lost many family members, as well as property in the revolution. His sole ambition has been to earn enough funds to buy back his family's estate, and to provide for his remaining family. He is close to his goal, but a vicious attack left him near death, and unable to continue in his service to the king. He is recuperating in the village of Pennyroyal Green, but his injuries are very severe, and with no income, he still lacks the money he needs to purchase his former home. The deadline is looming before the estate goes to another buyer. He may have no choice but to go forward with marriage to the heiress his family has long expected him to wed.
Philippe has little expectation that the latest housekeeper will fare any better than the last several. His penchant for throwing objects, and the lazy, disobedient servants have sent the last several running away. Elise, however, applies techniques she used as a teacher to the ragtag staff, and soon begins to whip them into shape. She also realizes that the distant, and sometimes angry, Lord Lavay is still in considerable pain. Elise's father is a doctor, so she's soon preparing healing tea, and providing advice on how to help Philippe's severely injured hand. As his household and his own health improves, Philippe begins to pay more attention to the lady who made these miracles occur.
Rarely have I ever fallen in love with both the hero and heroine so completely and so quickly. Elise's one mistake changed the course of her whole life. Yet, though her lover and her family turned away from her, and fate was definitely not kind, she retained her strength of character, her convictions, her compassion, and her kindness. She's a wonderful mother, and is raising her son to be kind and full of joy. Philippe, while a product of his noble upbringing, is never unkind, or consciously "top-lofty." His reserve and occasional anger are caused by his situation and his limitations. He does retain an air of command around Elise as her employer, but it's not meant as belittling. They begin to converse, and soon, each is taking pleasure in being able to coax a smile (or an "almost" smile) from the other. I was delighted when Elise finally drew a full joyful laugh from Philippe.
There were so many wonderful scenes, small moments that added up to their falling in love. One in particular that I love is when Elise catches a servant about to steal one of the objects Philippe managed to smuggle out France. She is so passionate and eloquent in her defense of Philippe, that I was hoping he was in the background able to hear it. And he was. And it was beautiful.
Philippe understands love for his family, but he can't define the feelings he has for Elise. Love toward a woman is a foreign concept to him. He can't quite comprehend his jealousy toward the man who is the father of her child. Since Elise has been in love once before, she recognizes what is happening to her. She knows that she is a passionate woman, and that she's in danger of making a second mistake. She finds the strength to refuse Philippe's advances. Philippe feels hurt by her rejection, but feels confident that she will soon become his lover. Observing Philippe eventually come to the realization of what "home" and "love" truly mean was magnificent.
While the time period covered by this book was relatively short, the characterizations were done in great depth, and the romance progressed slowly and believably. It Started With a Scandal was so well written that I resented time I had to spend away from the book to attend to things like work. The words just flowed, and I was truly enchanted by this heartwarming, passionate, and romantic book. Everything about this book worked for me, and it is my favorite of all the excellent works penned by Julie Anne Long. Though it's early in the year, I can guarantee this will be on my "Best of 2015" list, and it receives my highest recommendation.



Editor's note:
This article was originally published at Long and Short Reviews. It has been republished with permission. Like what you read? Subscribe to the
SFRB's free daily email notice so you can be up-to-date on our latest articles. Scroll up this page to the sign-up field on your right.