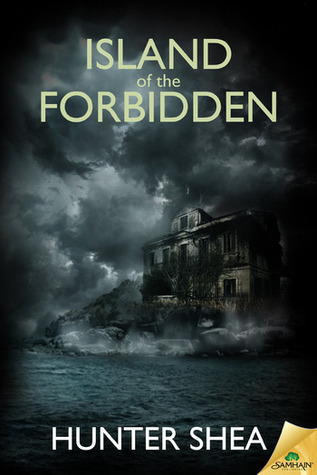 Island of the Forbidden serves up a chilling mystery that is made for an episode of paranormal reality television.
What evil lurks beneath the facade of the well known Ormsby mansion; a mansion with a history though out Charleston Harbor for its haunting family massacre? Jessica Backman and Eddie Home have been summons by the new owners to investigate strange happenings on the Ormsby Island. and they will soon discover the horrific events that will leave readers with goose-bumps.
Jessica seems to be running from her past when she hesitates to return Eddie or her Aunt Eve phone calls. I am not sure if there was a novel before this one, but the relationship between Jessica and Eddie feels like they had a shaky past working as a team before. There is a lot of reference to a previous event but only hints of it, no details as to what actually happened that made them so stand-offish towards each other. For something that was mentioned quite a bit I found it strange that the full details of what happened was not revealed some time during this read.
The book did seem to have a few slow parts of just watching and discussing what the EBs (energy beings) were doing. The island is known for having a horrific past, so of course Jessica did her research on the island history and what happened there but they didn't seem to have devised an immediate plan of action to take. Then, unbeknownst to Jessica and Eddie, psychic medium Nina D'Arcangela shows up at the house. The additional people being invited brings about a different view of the owners agenda. Not knowing who to trust, Jessica and Eddie decide to leave the island, but the EBs doesn't like this idea and will insure that Jessica and Eddie stay to get justice for the Last Kids. Once Nina and the team starts stirring up the EBs emotions, this is when the action picks up and Jessica and Eddie's investigation starts to move along. This was my favorite part of the book. The way the author tells the story with such details and the characters all in motion delivers such an explosive ending.
The plot was well developed and written in a chilling manner. The author has a talent for writing that flows and tells a story of interest, along with building a creative story with high levels of hair-raising eerie feelings that comes along with reading such sinister subject matter. Eddie's ability to see the dead around him left me with a 'somebody's watching me' feeling. The cold temperature of the island and how the EBs drew Jessica's power left me with chills.
Island of the Forbidden is a paranormal read that I would recommend.



Editor's note:
This article was originally published at Long and Short Reviews. It has been republished with permission. Like what you read? Subscribe to the
SFRB's free daily email notice so you can be up-to-date on our latest articles. Scroll up this page to the sign-up field on your right.