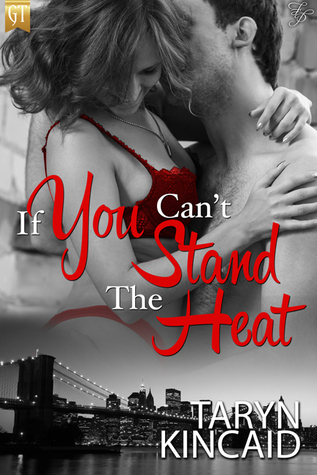 Lucrezia is having a very rough go since her restaurant received a scathing review from critic Derek Dunne. The family restaurant is nose-diving, dying a slow, painful death after their customers dried up from the now-infamous review. When Derek hears that the newspaper he's always worked for is closing up in six months, he has an epiphany. This is the perfect time for him to make a change in his career. No longer will he be on the outside looking in, tasting other people's work and writing from the sidelines. He decides it's time for him to create his own food, his own way. He recalls one specific restaurant, with a homey, local feel and he decides to try his luck. Only Lu has zero interest of listening to him and his slick speech attempting to get work in the kitchen. The heat between them is about to reach intense levels.
This is a light-hearted, fun novel about a family owned business and the passionate people working to keep it alive. I really loved how Derek swept into Lu's kitchen, and in a strong, but reasonable manner just plain took over. Lu is a business woman at heart, not a chef, and while Derek might have been writing for a living for many years, he trained as a chef and his passion has always been food. In the kitchen, they're a match made in heaven. I was really pleased that Lu could see this and didn't remain stubborn. Yes, her anger is justified and her reaction when confronted with Derek the first time after his column was hysterical. But she didn't let her anger and resentment detract from her family restaurant.
While there is a definite thread of comedy through the story, I found it to be a sweet, funny story full of vivid family characters and strong secondary presences. I found myself laughing a few times while reading and enjoyed that warmth a feel-good type of story gives you. My only disappointment was Lu's panic mid-way through the book, which I didn't really feel was properly justified. It felt a bit too much to me like a "lets create conflict here" instead of a natural suspicion and concern. That fakeness was my only real problem though, the rest of the story – the characters in particular – were lively and wonderful.
Fun, sexy and very lighthearted, I found this to be a wonderful book sure to put a smile on anyone's face. With brilliant characters, crazy and cool and that special pinch of something only an oddball family can give you I really enjoyed this story. Recommended.



Editor's note:
This article was originally published at Long and Short Reviews. It has been republished with permission. Like what you read? Subscribe to the
SFRB's free daily email notice so you can be up-to-date on our latest articles. Scroll up this page to the sign-up field on your right.