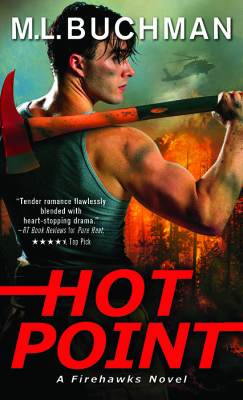 Action-packed and love-laced, Hot Point takes the reader into the hot, dangerous world of firefighting with a helicopter; even into a "wildfire tornado" that takes one's breath away. Best of all, Hot Point is laced with sizzling, refining attraction that comes through the heat to be pure love.
Vern Taylor, an ace helicopter pilot and new to Mount Hood Aviation (MHA), knows he's in trouble, big-time, with hot-tempered Denise Conroy, lead mechanic for MHA. She does not like to see her "birds" crippled, and he seems to cripple his Firehawk regularly. How these two rub along together is pure joy to read.
M. L. Buchman, with all his acronyms, dumps the reader right in the middle of action with characters that thrive on danger, whether it is in the form of killing a deadly fire or in pulling off a death-defying rescue of people. And, oh, yes, there are secrets to keep. The author gives the reader all kinds of reasons to keep turning pages.
I'm always thrilled to catch up with Emily Beale, Mark Henderson, and many characters from previous books. They never fail to keep the reader involved in the personal, public, and secret happenings as they risk their lives to do good, day in and day out.
If you have not read previous books in M. L. Buchman's series, Hot Point is a good one to start with, then you can go back and read earlier books about these characters that have dangerous, scary, adrenaline-pumping adventures while love finds them and invites the reader along for incredible love scenes. The humor, sometimes blatant and sometimes subtle, threads through the stories at just the right times to give the reader a breath-catching moment, before emotion-stoking action starts again. Great entertainment!




Editor's note:
This article was originally published at Long and Short Reviews. It has been republished with permission. Like what you read? Subscribe to the
SFRB's free daily email notice so you can be up-to-date on our latest articles. Scroll up this page to the sign-up field on your right.