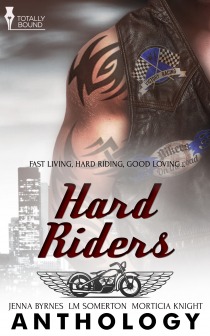 Rugged, inked, and muscular motorcyclists, plus their sweet men, is a smoldering combo you won't wanna miss.
Clear Blue Sky by Jenna Byrnes
Sky needs to leave Kansas and his abusive ex, Duke, behind. In Colorado, he ends up working at a bike shop where he meets Task, a member of the Rebel Riders. Sparks fly from the start, and an affair begins. But Duke wants Sky back, so he joins a rival motorcycle club, the Demon Outlaws, and starts picking fights with the Rebel Riders. A confrontation between the two clubs and the three men is inevitable.
The portrayal of Sky's past abuse as the vivid memories haunt him, even to his nightmares, is shown rather well. These invisible and visible scars are carried for life. Nonetheless, Sky wants to put the past behind him and escape the bonds of violence that keep him from trusting people. Yet he wants to take the plunge and open up again. This complex characterization gave him believable depth, the mix of vulnerability and strength a compelling one.
Despite the hot-and-heavy moments between Sky and Task, there's an underlying focus on talking things through about topics like honesty and trust. Those conversations gave these two men a reality check and added depth, since in essence this has that insta-love thing going on, so realism and depth were needed. Then again, this is a short story.
Task is the perfect bad-ass biker, tough and sharp on the outside, gentle and sweet on the inside. This tale is a mix of dialogue about learning to love again, action and suspense, and pure smoking hot sex. The balance between all these aspects is accomplished through a well-written story, and I highly recommend this.
Mantrap by L.M. Somerton
Rogue is a member of the Wyverns Motorcycle club. His criminal record is extensive, and the club members are no strangers to crime. The club's leader orders Rogue to kidnap Orlando, the son of a drug lord. But Orlando is feisty and unyielding. Rogue learns the only way to keep the kid down is by tying him up, BDSM style, and fuck the impudence right out of him.
This story was nothing like what I expected from the blurb. For one, the motorcycle club consists of gay guys who are actually trying to fix their past mistakes. Also, the leader of the club, Trap, is blackmailing the guys into doing jobs for him. Still, at the end of this quirky tale, we don't get to know a lot about Orlando's dad (his fate is a bit out there) or the mysterious Trap. So don't go expecting everything to get tied up into a pretty little bow at the end.
As for Rogue and Orlando. Their interaction, in every sense, were the best parts of the story. Orlando is submissive but also a subtle, smart manipulator, definitely topping from the bottom. But Rogue sees through his shenanigans, which gives way to humor and funny moments, as both men try to gain the upper hand of the situation. And the kidnapping hadn't actually even started yet!
Naturally, there's a hailstorm of bullets toward the end and action-packed scenes. Overall, though, this tale delivers a wonderful complex dynamic of two people who find a true connection in a bad situation. The BDSM is mild but gives enough flare for drama and a background through which the main characters can work on their, um… frustrations. Not a bad story at all.
Biking Bad by Morticia Knight
Zero belongs to the Mojave Sidewinders, a gay MC club, and he knows how to take care of himself. Dylan is a wanna-be private eye who is searching for a missing young man and goes into Road Rage, the Sidewinders' bar, all gung-ho, asking questions. Thankfully he's saved from a beating by Zero. Their attraction is swift and burning hot, even though Dylan's a virgin and Zero harbors secrets of his own.
Though at first Dylan and Zero seem like polar opposites, they have in fact a lot in common. Their pasts are rough, their lives hard and lonely, and they both have insecurity issues, they just deal with them differently. These similarities allow them to form a bond quickly, even though the risks in doing so exist. I thought their romance was sweet and and nice, and they're both amiable, good men. Sure, at first Zero acts like a total jerk, but his tough exterior hides a heart of gold. And Dylan's feistiness, despite his small stature, gets a thumbs-up from me.
Zero's connection to the missing youth puts him in a position where he must decide which is more important: his MC club or Dylan. Another biker named Grim is the villain of the story, and his threats force Zero to choose sides. Illegal acitivies, guns ablazing, bar fights–this story's got it all. The plotlines got a little confusing at times, so in that sense this was the weakest of the three stories. Nonetheless, well worth the read.




Editor's note:
This article was originally published at Long and Short Reviews. It has been republished with permission. Like what you read? Subscribe to the
SFRB's free daily email notice so you can be up-to-date on our latest articles. Scroll up this page to the sign-up field on your right.