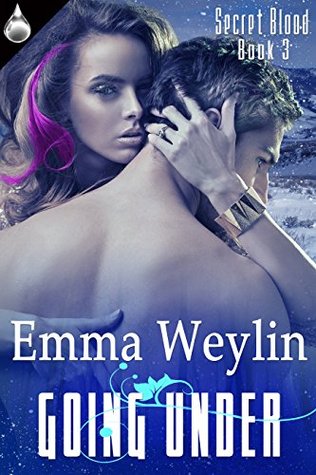 Paranormal romance fans have a treat in store when they pick up their own copy of Going Under. Sure, it has the scent mate thing going on but there's a definite twist which makes this book a lot more interesting and suspenseful.
I have not read any of the previous books in the series so I was a bit wary of trying #3. No worries – it makes references to a past but this tale is about the here and now and the challenges Tiberius and Kenzie have to face and overcome before they can realize their happy ever after. Poor Tiberius focused so much on the symptoms, no one thought to question the cause.
The one thing that stood out for me was the point the author made about communication. It's always, always important in a relationship no matter how good it might be. Even if a person thinks they know their partner like a book, assumptions can poison and inadvertently destroy something beautiful. It's a powerful lesson.
Kenzie is a mixed bag of sweet and saucy, brains and very human. I liked how she calmed Ty down and how she was able to distract him many a time with a sultry look and a suggestive tease. Hers was a fun character that played well off of the big, intimidating weretiger.
Ty a/k/a Tiberius is a mess. Yes, he's big, surly, powerful and intimidating but he's a pushover when it comes to Kenzie. She has this hold on him that's been apparent for years and only now does he recognize what it really means, but readers will find out that even a man as smart and bold as Ty doesn't know the half of what's going on. How he deals with it is awesome reading, at times even insightful.
The villain of the piece, the true villain, doesn't stay on stage for very long but his legacy is legion. The scope is revealed in this novella so readers of the series should be very happy at a potential resolution of one ongoing thread. There's still something else that hangs over their heads but I won't say what. The tragic and painful part comes from Ty's family member. It's unknown if this person is truly swayed or controlled and influenced to do what was done and continues to do, but it's destructive no matter which way you look at it. I feel so sad for Tiberius.
Secondary supporting characters like Chad and Demetri and others are an asset to the story, and play well off the personalities of the hero and heroine. Phillip on the other hand is a tool. I mean that in both versions of the definition. He's an idiot and he's being manipulated and used against the protagonists for a very human reason. I want to feel sympathy for him, but he's just too much of a jerk. However, his introduction also paves a way for a very interesting thought – why is Demetri so interested in the reason for Phillip's collusion? What information did he find? It's a subtle little hook but it's good enough for me to wonder what is going to happen in the next book of the series.
As for when Tiberius and Kenzie get physical – readers will have plenty of opportunities to see them in action. Once Kenzie opened the door to that side of their relationship, it didn't take long for Ty to want to make up for lost time. Have a fan at the ready.
Going Under is a paranormal romance junkie pleaser. It has motivation, suspense, many moments for Kenzie or Ty to prove how deep their love is for each other by what they're willing to do on behalf of the other. When they are not dealing with the bad guys, the book is fun, frisky and thoroughly entertaining. I believe fans of the series are going to like it and new fans might be hooked just by this tale alone. I know I am. This story is a good read.



Editor's note:
This article was originally published at Long and Short Reviews. It has been republished with permission. Like what you read? Subscribe to the
SFRB's free daily email notice so you can be up-to-date on our latest articles. Scroll up this page to the sign-up field on your right.