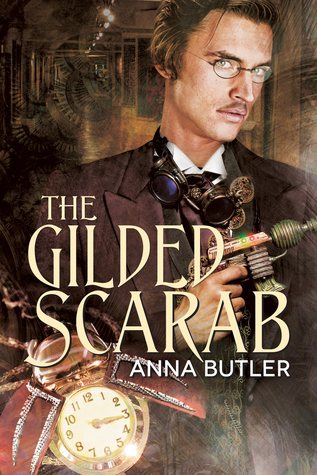 An aeronaut loses his commission due to an injury, gets a new job as a coffee shop owner in the heart of Londinium—and comes face to face with more temptations and deadly dangers than he ever did in the Aero Corps.
A part of this story reads like steampunk Starbucks coffee wars. Amazing stuff, really. I loved every bit of this tale. Though it starts kind of slow, the length of this piece gives time and space for each character to develop into three-dimensional people. Besides, Rafe is sort of lost in the beginning, trying to find a place where he might fit in, so the tardiness belongs there.
The plot is slow to reveal itself. If you're a perceptive reader, some of the plot twists won't come as a surprise. But the way everything is handled, is unique and absolutely captivating. The Houses that form the powerbases of this Londinium and the Britannic Imperium have fascinating and complex ties, so you never really know who's on who's side. And while the princeps of these Houses are known by all, the other members can be anyone really. You never know.
This complex steampunk world is given to us through Rafe's eyes, via his first person sarcastic British wit and dry British humor. As such, the sporadic explanations given, a detail here and another there, merely raise a whole bunch of new questions. Clever piece of writing indeed. Thankfully, to those in need, there's a glossary of terms in the back and a map of the main plot area in the front of the book. Trust me when I say both will come in handy, even if the map should have been the other way around, I think. The technologies alone are a staggering concoction of real and fantasy armaments, vehicles, city powers, etc. They all read realistic though they are far from it. Delicious.
Rafe is a wonderful character, a member of a Minor House and overjoyed at having nothing to do with them and their schemes. He's smart though a bit slothful, loving though professing to care only for sex, and able to form natural, lasting friendships even though he's suspicious of people's motives and ties to the Houses. In short, Rafe is a complex individual, realistic and relatable.
Rafe becomes acquainted with two men, Edward and Daniel, in a gay molly house, and he has sex with both of them in the story, though not at the same time. A fair warning if your consider that cheating. One of these relationships forms the foundation of Rafe's new life, the other becomes the bane of his existence. It's not difficult to tell which is which. But that epiphany is only the beginning of the story.
Add to these the likes of Mr. Pearse, the coffee shop's former owner, Hugh, Rafe's batman, Will, the pastry chef next door, Hawkins, the bodyguard fully prepared to kill for his charge, or Stravaigor, Rafe's House's leader—and you have an amazing pool of people to draw Rafe into the multi-layered plot. And those above are just a few of the eccentric characters prowling the streets of Londinium, mixing their affairs with those of Rafe who is just trying to find a place to call his own.
I give this superbly woven tale top marks and my highest recommendations to anyone who likes a slow-build M/M romance filled with suspense and intrigue, even if you're not a fan of steampunk or historicals. The sex portions take place at the beginning of the book, while the suspense fills out the rest. I am honestly impressed with the level of detail, characterization, plot developments, and the writing that matches the subtleties of the created world with its uses of slang and steampunk parlance. I absolutely recommend this to everyone, regardless of your preferred genre.

Editor's note:
This article was originally published at Long and Short Reviews. It has been republished with permission. Like what you read? Subscribe to the
SFRB's free daily email notice so you can be up-to-date on our latest articles. Scroll up this page to the sign-up field on your right.