This is a wonderful ghost story and if readers also like to watch Ghost Hunters or Paranormal Witness, then this novella is extra fun. Why? Because unlike the T.V. shows, in Ghosts of Kingston Cottage the hunters not only find the ghosts and interact with them but two on the team become convinced that the power of true love is real. They get to see it and feel it in the most unlikely of ways. Talk about romantic!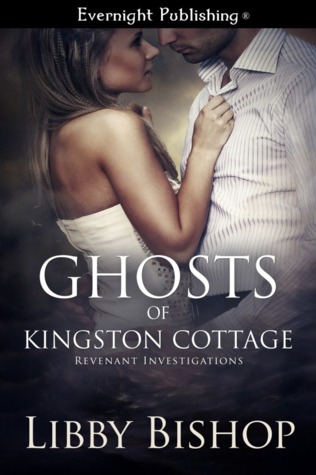 Arabella is the one who can see and talk to ghosts, and Lucas is the reporter who is there to debunk them or validate them. Talk about a conflict of interest! What is delightful is the fact that Lucas comes to believe. It's actually easier for him to believe in the ghosts than it is for Arabella to trust him because she'd been severely burned by someone she thought loved her in the past. So, she has a lot more protection around her heart and it's almost impossible for Lucas to break through. Leave it to the ghosts to teach her a lesson and learn she does.
This is a fast, engaging and clever read that is delightfully entertaining and fun. There are no mean nasty ghosts or dark drama for readers to worry about. Ghosts of Kingston Cottage is really about love and it's character driven. I enjoyed how the author focused on the case and let Arabella's professionalism and personality speak louder than anything she could have said to convince Lucas that her talent was real. The romance between Lucas and Arabella grew gradually over the course of a few days and its swiftness was addressed with some of Lucas' family history. It made absolute sense to me and I like the story better for it because this tale is truly charming.
I liked meeting Katie and her husband Seamus and the challenge they presented to the team. From the sounds of it, they were good people in life just as they were in death. I was very happy that they finally got their HEA. As for Lucas and Arabella, their lives are just starting to be lived out so it's a happy for now kind of wrap up. The sweet thing is, I have no doubts that a happy ever after is in their future. Especially after the romantic and grand gesture Lucas ends up offering Arabella. That clinched it for me.
For readers who crave and enjoy the physical expression of love, it's there but it's like a big giant reward after all was said and done. I felt the author handled it just right. In fact, it was perfect. I'm quite happy.
Ghosts of Kingston Cottage is a treat to read. It really is. It made me feel quite cheerful at the end and upbeat. The novella could actually lend itself to a Hallmark movie plot because it has all the elements that one would expect from the 'feel good channel'. This book might be short in pages but it's got a lot of heart and has a solid story to tell. If you're in the mood for a ghost story that won't scare you but one that engages the heart then give this one a try. It's well worth it.




Editor's note:
This article was originally published at Long and Short Reviews. It has been republished with permission. Like what you read? Subscribe to the
SFRB's free daily email notice so you can be up-to-date on our latest articles. Scroll up this page to the sign-up field on your right.