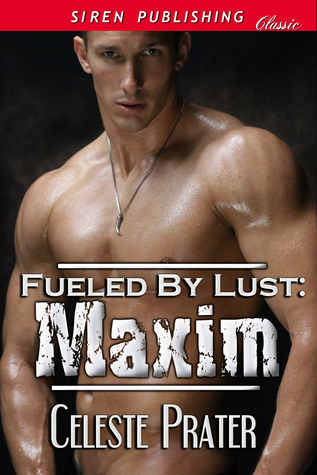 They say things happen for a reason, good and bad. While the tragedies that had befallen Skylar over the previous 24 hours were certainly not good, they did put her on a path that led her to the one person who could answer all her questions, or at least help her find the answers. Running for her life from an unknown assailant and carrying something in her purse that's important enough to get her boss killed, Skylar isn't sure who she can trust or even where to go at this point. To top that off, the spirit guiding her on this journey employs less than appreciated means of persuasion to get her to do what it wants. There's something she's meant to do, she just doesn't know what that is or where to find it. Nothing like embarking into the unknown, especially when it could get you killed.
When she runs into a sinfully sexy man who declares his intent to protect her, Skylar can't help but accept his invitation. After all, the man is built like a brick-shit-house and could obviously handle his own. Surely it couldn't hurt to have a beefed-up bodyguard, right? She had no misgivings that this gorgeous fella might actually be attracted to her. Girls like her didn't get men like that. But she wouldn't let that depress her, she'd just enjoy his company while it lasted. Besides, her spirit seemed to like the idea. Who was she to argue?
Maxim had searched one club after another, touching as many wrists as he could to try and find a compatible mate. When his quest turned up empty, he decided it was time to go home. After several failed attempts to contact his Insedi brothers via mind-call, Maxim realizes the delayed flight and questionable security of the plane were just a reminder of how unpleasant his trip home had been thus far, as well as how miserable the final leg of his journey would likely be, too. Why would his rotten luck change now?
Despite his sour mood, he finds his spirits quickly lifting when he spots a gorgeous female making her way through the crowd. Entranced by her beauty, he can only stare as she walks right toward him. Even though he's sure he's never seen her before—he'd definitely remember eyes like hers—she seems to recognize him. One misstep from her and he suddenly finds himself in a powerful Occasio surge. With his body nearly paralyzed in a mixture of pain and pleasure, he has no choice but to ride it out until the end and pray she doesn't bolt. Thinking the beautiful woman would likely run like hell while he flopped around uncontrollably, he was totally shocked when instead she hovered over him like a mother protecting its young while curious onlookers crowded around. Despite the crappy day thus far, Maxim had just found a potential mate.
The last thing he expected was to find himself flat on the floor in the middle of a crowded airport with his mate plastered to the front of him. But once he realizes who she is, he has no intention of letting her go. Using his suave skills, he manages to convince her to forgo the plane and the bus and continue her journey with him, alone, in a rented hummer. Despite her initial hesitance, she finally agrees. It turns out to be a decision that changes both of their lives.
Fueled by Lust: Maxim takes us on the journey of another special Insedi male as he finally meets the woman that can make him whole. Even though Skylar isn't really looking for a man, Maxim is just what she needs. Together, they discover the meaning of true love, as well as the hardships and sacrifice that sometimes comes with it. Despite the challenges, neither is willing to give up the other. Working as a team, they uncover the truth and significance behind the artifacts Skylar found during the excavation in Rome, as well as what they mean to the Insedi people and their future.
Skylar has some supernatural skills that aid in their journey. While her abilities previously scared away past loves and earned her the "crazy" label, Maxim found her gifts nothing less than amazing. Skylar isn't used to someone accepting her as she is. Her parents were the only other people who believed in her. When they passed away, her aunt and uncle used her abilities to convince a judge to lock her away in an institution because they claimed she wasn't stable. To have Maxim accept her—weird talents and all—is more than she could have ever hoped for. Who was this mystery man and where did he come from?
I'm at a loss at this point. With each new installment of Ms. Prater's Fueled by Lust series, I'm finding it more and more difficult to put the right words on paper to adequately do her work justice. Once again, Ms. Prater's writing sucked me right in from page one. In truth, there have only been a few series that I've read over the years that touched me so deeply that I actually felt depressed because they weren't real and even more so when they ended. Ms. Prater's characters have certainly reached that status with me. If only…she definitely provides material that revs up my fantasies.
I love how Ms. Prater skillfully weaves in new characters with the old and makes everything blend so seamlessly. It feels like I'm watching a TV series and each new book is like a new episode. I don't know how many she has in her, but I'm praying like crazy that it's a lot. I will truly be saddened when this series finally ends. I am likely only one of Ms. Prater's adoring fans and I think I can speak for all of us when I say, please don't let it end! *smile*
If you haven't checked out Ms. Prater's Fueled by Lust series, then you are seriously missing out on some really good stuff. The men are amazingly sensitive to the needs of Earth women and it doesn't hurt that they're smoking hot. Each of her female characters have endearing qualities that make me love them just as much. I even love their pets! Barney is just awesome. They're good stories about love conquering all told from a fresh and invigorating perspective. If you like a little science fiction to go along with your romance, then this series is for you. I absolutely loved this one just as much as all the rest. Maybe even a little bit more. It's kind of hard to pick a favorite when they're all great. Read one, read them all, just be sure to grab a copy of Fueled by Lust: Maxim, it is most definitely a worthwhile book.



Editor's note:
This article was originally published at Long and Short Reviews. It has been republished with permission. Like what you read? Subscribe to the
SFRB's free daily email notice so you can be up-to-date on our latest articles. Scroll up this page to the sign-up field on your right.