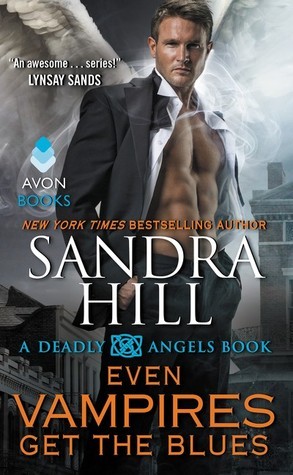 Wow, Ms. Hill pulled inspiration from current headlines and fit them into this story with perfect logic. The weird thing of it is, a few books ago, I sort of wondered if Lucipires were behind the horrible events unfolding and I guess I was right. I mean, if anything could fit the M.O. of Jasper and his evil minions it's what is going on now. Imagine my surprise when I saw it in action!
Something tells me that the author spent quality time doing serious research in preparation for writing this novel. The one thing that I give her credit for is her ability to wield this knowledge with the gravity and seriousness it deserves without letting the subject overtake, overwhelm or subjugate the story with the darkness of the conflict. The romance is front and center with the focus strongly aimed at Harek and Camille. They made for an interesting couple.
Ms. Hill continues her tradition of clever Viking quips, funny puns and sexual innuendo. This author loves to play with the written word and some of the dialogue, both inner and verbal, was hilarious and truly inspired. All her characters practice a certain form of wit that can be endearing, annoying, (to the other protagonist, with giggle-worthy results) and sometimes insightful. It's the repartee between the main characters and secondary characters that oftentimes provides the most interesting clues about the hero and heroine's personalities.
There were some important secondary characters and some that were on stage only to illustrate a point or move the story along. Each and every person in the story had a reason for being there, even if it's only to have a door slammed in their face. I liked that part.
I can only think of three areas where I think the story fell a bit flat and that was the island and the decision about the undiscovered item, and then the scene when the binding slipped. I'm wondering if the editor really thought that whole interaction through, because I found it inappropriate. Granted, Herek had some clever lines during the process but all I kept thinking about was who was involved. It was explained, true, but still, its handling didn't sit right with me.
I enjoyed reading about all the sensual hijinks that Harek and Camille explored while they were falling in love. Ms. Hill always has her heroes and heroines have fun during sex and Even Vampires Get the Blues delivers the smiles. Each scene has a bit of dialogue, laughter and the requisite Viking S Spot. I wish I knew how to find it; frankly I'm envious of the heroines.
Even Vampires Get the Blues is an action-filled quick read that was greatly entertaining. I liked Camille's personality and Harek's preoccupation with her. If I had to choose one of them as being the most interesting and well-rounded, I'd pick Camille. Her conflict, both familial and personal, was easy to connect with. There's a lot to like about this novel but my sincerest wish is that somehow, fact would follow fiction, and a certain group would get their comeuppance as only a Vangel could deliver. Wouldn't that be awesome? Vangels rock!




Editor's note:
This article was originally published at Long and Short Reviews. It has been republished with permission. Like what you read? Subscribe to the
SFRB's free daily email notice so you can be up-to-date on our latest articles. Scroll up this page to the sign-up field on your right.