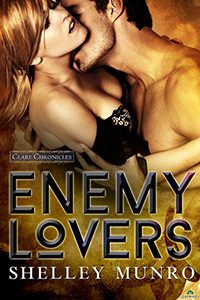 When Laura Drummond gets a flat tire on her way to her family's home, she is glad for the delay, she has fought long and heard to escape the life her family wants her to live and she really doesn't want to give up her hard won independence. When Dallas O'Grady come to her rescue by the side of the road, she feels an instant attraction to him, and decides she wants to get to know him better. Dallas thinks he has a chance with the lovely woman stranded with a flat tire, until she turns and he realizes she is one of the Drummonds, the family his family has been feuding with for generations. When they discover that the attraction runs both ways, they agree to wait out the clearing of the only road to town at Dallas' place, and enjoy each other's company. As these two grow closer, they slowly begin to care about the budding relationship, in spite of what reactions they may get from others. Can Dallas and Laura build something that will withstand the family feud? Is Laura ready to brave the wrath of her family to stay in Dallas' life? Can their love ever heal the breach between two families after such a long time?
The Clare Chronicles continue with Shelley Munro's Enemy Lovers. I do like this world, with the small town feeling of Clare and surroundings. The characters here have an instant attraction, and I enjoyed watching as they made the decision to act on that attraction, despite the age old feud. There were few supporting characters, and they only appeared briefly, but they were as well defined and Dallas and Laura. I look forward to more in the world Ms. Munro has so enticingly built.
Laura Drummond is smart, strong willed and determined not to follow the life plan that her mother wants for her. When she is delayed on the way home, first by a flat tire, then by a blocked road, she is relieved by the brief reprieve. When Dallas O'Grady stops to help with her tire, she feels a tingle of attraction, and when he offers shelter until the road opens, she is more than happy to take him up on his offer. I like Laura, with her determination to make her own way in the world, and enjoyed watching as she learned to care for Dallas, knowing their road might be a rocky one.
Dallas O'Grady is smart, strong and very sexy. He realizes right away that Laura is special, but he also knows that both families could cause trouble with their possible relationship. As things heat up between them, both want to take the next step, and I liked Dallas' idea of having Laura sign a statement that she was a voluntary participant in everything they did. I liked that Dallas, while aware of the repercussions that could follow, was still willing to take the relationship as far as Laura was willing to go.
There are some more that hot spots in this, and some places where family interference was brutal, at least from Laura's family. But there is strength and passion between the two main characters that can't be controlled or denied, and they do have a happy ever after here. I liked the pacing of this one, and look forward to meeting more of the residents of Clare in the future. This is another romantic comedy from Shelley Munro, and I recommend it for those who like their family feuds hot and steamy.



Editor's note:
This article was originally published at Long and Short Reviews. It has been republished with permission. Like what you read? Subscribe to the
SFRB's free daily email notice so you can be up-to-date on our latest articles. Scroll up this page to the sign-up field on your right.