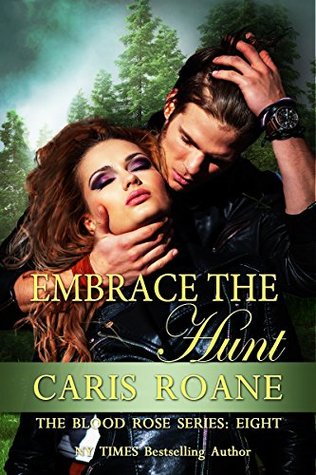 Talk about a plot surprise! Who knew that their love was being thwarted on purpose? This latest adventure from Ms. Roane is another winner and a continuation of the stellar and amazing Blood Rose series. Mastyr vampire Ian and the Ruby Fae, Megan are front and center in the battle against the evil Margetta and the stakes are higher than ever before. How exciting!
This novel actually picks up where the previous one, Embrace the Wind left off. Regan was kidnapped and no one knew how or where to find her. Since the evil fae isn't known for her kindness or mercy, it was a given that Regan was either dead or about to be, so Ian's reaction at the end of the previous book was surprising. Fast forward to Embrace the Hunt and the reason why becomes a lot clearer yet more mysterious and convoluted at the same time. It's an attention grabber.
The author wastes no time and putting a reader into the middle of the action. An impossible rescue is about to happen and help comes from an unexpected source. In fact, on an aside, I just found out that the reason for the success of this escape inspired a new novella coming soon, so I'm all aquiver with excitement! But, back to Ian and Regan. There is a definite love/hate, push/pull dynamic going on and a reader feels their torment, especially Regan's. I understood Ian's POV but I couldn't understand how it could be so firm and fresh after all these years – until the great revelation. The revealed truth warranted use of a fainting couch. Never could I have imagined the scope of the villain's treachery. Ms. Roane did have Regan suspect something but at the same time, the heroine was just as susceptible as the hero to the veil of deceit. So tragic and sad, yet a perfect plot conflict.
Davido showed up in this installment like he has in others in the series but this time, it was just to provide a breather. Both Davido and his wife, who are very likeable and fun to read about, guide just a little bit but this time they leave the heavy and hard stuff up to Ian and Regan to wade through and figure out. It was a smart way to write it because Regan and Ian's working together proved that there is something stronger between them that they needed to discover, embrace and use all on their own for it to be effective and as powerful as it could be. There is no doubt though that I enjoy it whenever Davido and Vojalie visit the current hero and heroine. At least this time, they weren't used as a plot crutch. The conflict in Embrace the Hunt is strong and effective and the main characters' personalities carried the burden of all the drama and suspense on their own.
Embrace the Hunt is also sexy, sultry and flaming hot when Ian and Regan succumb to their passions. Yes, being a Blood Rose inspires a greater need and lust but what delights me is that in this book, the Blood Rose effect only exacerbates a hot passion that existed prior to its development. Ian and Regan are explosive together and I enjoyed every one of their kisses and clinches.
Embrace the Hunt should not be missed, especially by fans of the series. It's gripping, action packed and has quite a few surprises in store for readers. The quality of writing is solid and the dialogue is entertaining. I can't think of a single thing that didn't work for me. I enjoyed myself immensely and highly recommend this to other paranormal romance readers who like a story with bite, action and a satisfying happy ever after – until the final battle that is. It's coming, and I can't wait.



Editor's note:
This article was originally published at Long and Short Reviews. It has been republished with permission. Like what you read? Subscribe to the
SFRB's free daily email notice so you can be up-to-date on our latest articles. Scroll up this page to the sign-up field on your right.