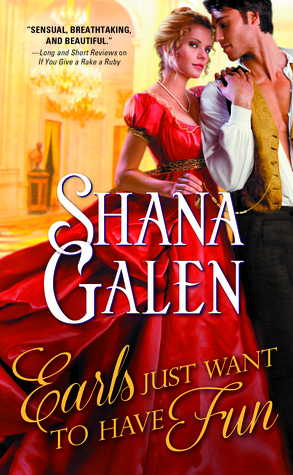 This is more than a love story; it's a story of a family's quest to be reunited, a journey of one man from self-involvement to awareness and a triumph over the machinations of a villain. Through it all is entertainment, fascination and excitement.
Earls Just Want to Have Fun sounds like a silly romantic jaunt in Regency England. It's actually not silly at all but filled with hard truths of life on the street. The author does a good job of depicting the harshness, the struggles and the hopelessness of the people stuck in Seven Dials. The words like snapper, dubber and tilter lent an authentic air to the tale. Stuck in that mire amongst thievery and cutthroats is the heroine, Marlowe. A reader is quite aware who she really is based on the beginning but one of the book's plot threads is how to get her back to where she belongs and that's no easy task.
I crack up thinking about Max's brother, Brook. In the back of my mind I hear Max say to Brook like Hardy did to Laurel (1930s), "Well here's another nice mess you've gotten me into." And what a mess it was. Max is so self-righteous and opinionated – and boring. He needs someone like Marlowe and readers are clued into that fairly quickly due to the skill of the author. Marlowe's method of speech perplexed and discombobulated Max something fierce which created some of the most fun and amusing scenes throughout the novel.
I appreciated how Ms. Galen took the time to detail Max's high-brow attitude in the beginning. It showed me a man I wouldn't want to know, and through the course of trying to re-make Marlowe into Elizabeth, he changed, became a better man, a better person who finally understood what it means to be in love and to be loved. I really liked him by the time the book ended.
Marlowe a/k/a Elizabeth is a plucky, spunky survivor. She has no memory of her true history except some faded memory that seems like a dream. She is very distrusting of Max and the worst punishment he visited upon her was a bath. The one thing that stands out for me about the heroine is that she avoided being too clichéd. I'm thrilled. Usually when the bad guy threatens, the heroine turns into a stupid martyr and tries to act like she's her own island. Not so, Marlowe. She had gumption and was actually very brave to do what she actually did do. For me that saved the story. If the author had her character do anything else I would have been greatly disappointed. Instead, I was treated to a heroine I was more than willing to read about, and enjoyed every minute of it.
Another treat was the seduction of Marlowe and its culmination. It was very sexy, sultry and had a lot of emotional impact. It complicated their relationship somewhat but that's what made the novel more compelling and interesting.
Earls Just Want to Have Fun is a very well written tale that entertains in a big way. It's busy, suspenseful and at times even a nail-biter, but it's balanced perfectly with humor, fun, whimsy and strong emotions. Historical romance readers have a treat in store for them with this book. It has good triumphing over evil and a reluctant hero saving the day. It's quite a roller coaster of a read with a completely satisfying happy ever after conclusion. The writing makes it easy to recommend the book to other romance readers. I liked it. What I liked too was the hook of getting to know Brook. He's a man in serious need of a woman and I can't wait for his turn. Bet it's going to be fun!



Editor's note:
This article was originally published at Long and Short Reviews. It has been republished with permission. Like what you read? Subscribe to the
SFRB's free daily email notice so you can be up-to-date on our latest articles. Scroll up this page to the sign-up field on your right.