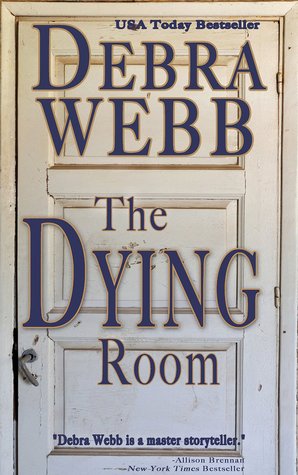 With the threat of Eric Spears nullified, Dan and Jess think that they can turn thoughts towards their soon-to-arrive child. However, nothing is ever that easy for the Burnetts, and when prominent members of the Birmingham upper class start turning up dead, it's all hands on deck to solve this one before anyone else of import dies. Jess' team, along with the medical examiner, Sylvia Baron, rush headlong into the fray, only hoping they can solve this case before it's too late.
I love this series and I really adore Debra Webb, however, this first stand-alone novel in the Faces of Evil series seemed to be missing something for me. I'm not sure if it was the intensity that the threat of Eric Spears added or what, but The Dying Room lacked the oomph of the previous novels. However, do not let that discourage you, because it was still a fast-paced, gripping mystery.
One big change was the focus on Birmingham's Medical Examiner, Sylvia Baron. Over the course of the series, you've seen her go from being Dan's ex-sister-in-law (and thus, Jess' enemy) to one of Jess' closest and most trusted allies. In The Dying Room you're treated to actual backstory and a bit of a side mystery. This was a happy switch of focus for me as I've been intrigued by this lady from day one. Anyone who is always that poised and put together is desperately trying to keep something at bay and, in this novel, we find out exactly what this is.
For me, the best part of this new novel was the prominence of my favorite side character: Buddy Corlew. I don't know what it is, but I'm always drawn to the oddest characters, and Buddy is no exception. A bad boy to the extreme, he exudes charm and danger at every turn. What saves him is that he really is good at what he does. No longer a member of the Birmingham Police Department, he has no qualms about bending the rules in order to get what he needs, and he does this often. When he sets his sights on Sylvia, however, I thought he was crazy. But somehow, the combination of high society Sylvia and from the wrong side of the tracks Buddy really works. They had this great exchange at one point that really sums their relationship up:
Sylvia made a face. "I'm not a big fan of beer."
Buddy grinned and pushed the Corona toward her. "You'll learn to like it."
"The way I learned to like you?"
He winked. "Exactly."
That's the infamous Corlew charm at work right there. That Sylvia is stepping outside her comfort zone not just with the beer, but also with Buddy, shows a lot of potential for her down the line. I do hope that Ms. Webb explores their relationship more in the upcoming novels. I love a mismatched couple, they're always the most fun.
The Dying Room is an intense and engaging novel that never stops. Between the main murder mystery, Sylvia's secret and the continuing back stories of the rest of her team, you aren't given a chance to get bored. Debra Webb has a masterful way of managing plots and subplots so that you're never confused or lost on any of them. Everything combines seamlessly into one fluid story that refuses to slow down until the end… and not always then, either. Another fantastic addition to an already amazing series.



Editor's note:
This article was originally published at Long and Short Reviews. It has been republished with permission. Like what you read? Subscribe to the
SFRB's free daily email notice so you can be up-to-date on our latest articles. Scroll up this page to the sign-up field on your right.