A mystery wrapped in a mystery but which one leads to the HEA? That's what I found most intriguing about this novel. The one that involved Lana and Adam is all over the place in the beginning but towards the end, I could see which way it was heading. I didn't mind the other one not being resolved because I clearly got the picture that there was another case, another hero, who was going to have to deal with it. Adam and Lana had enough to deal with in Duty Bound Guardian.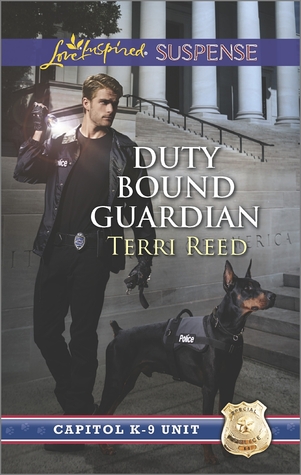 The interesting thing about this book was set up. The author took time for a reader to understand the demons that drove both the hero and heroine and it was easy to see how both their pasts affected their present. I liked how the author showed Adam and Lana, in turn, seeing the strengths of the other person as they battle to stay alive and solve the case. I saw their trust grow, the attraction simmer and the best part is how Ace, the K-9 officer and Adam's partner, played a major role, like an equal character, in the novel. I've seen K-9 officers in action and they truly are an amazing team in real life and I could relate. A police officer and his canine partner really are inseparable. That loyalty comes in handy many times throughout the story.
The most Adam and Lana do that physically shows when their extreme attraction for each other combusts and passion overcomes them, is kiss. It was enough to satisfy me that the chemistry is smoking hot but they toed the line because of the seriousness of their situation. It was realistic in that regard. Then again, they both have a strong sense of faith in God and quite a few times they ask/pray for strength and guidance, and a little saving especially when the bullets fly. It's not overdone at all, instead it provides a healthy dose of grounding, which reminds me, that even when things are at their worst, comfort can come from a higher source, and it can see a person through.
I think I might have guessed as to whom the bad guy was, but I wasn't sure because the author, through use of her characters, kept throwing me off of the scent. In the end, the heroine was just as shocked as I was. I liked that.
Duty Bound Guardian is a clever read with heart pounding action. It was entertaining, exciting and I really enjoyed myself. I'd recommend this to all romance suspense readers who don't want to read a huge tome but want a quick edgy read that affects their breathing in all the best ways. It's a solid recommend.



Editor's note:
This article was originally published at Long and Short Reviews. It has been republished with permission. Like what you read? Subscribe to the
SFRB's free daily email notice so you can be up-to-date on our latest articles. Scroll up this page to the sign-up field on your right.