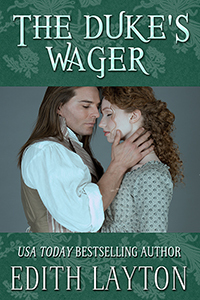 The rather cold-hearted Duke of Torquay is dissatisfied with his selected bed-partners. Ah, the loose women one collects are so uninteresting, he does wish he could keep his mistress on a shelf in the closet. Poor fellow… but then he spies the lovely, (yet quite honorable) Regina. Surely she will solve his dissatisfaction.
For her part, she simply, desperately wanted to take part in the 'glittering and fashionable' part of life, with no idea what sort of attention a trip to see the opera might bring her. Instead of stepping her up in society, it ends, because of the Duke's pursuit, with a step down. She turns to a relative for help…but this plan turns on her. Yet, Regina carries on with dignity, and by this point, has completely won the hearts of the readers. We are desperately hoping for the best for her, even while unable to see how 'the best' might possibly be attained.
However, as Regina suggests her situation is like being caught in a nightmare, we readers see that she must, somehow, see escape as possible. And in a way, her words work…for they lead to a certain challenge as well as a level of freedom. This is unexpected, and honestly, much of the happenings from the large to the small, are unpredictable and surprising.
The duke himself, who starts off so impossibly shallow discovers… some remnant of decency, is it? Some recollection of his own childhood vision of the world? There are the 'truly despicable' out there and we'll certainly get the chance to compare! To say more would be to spoil the story, but indeed, neither of our main characters are as simple as they first appear. Readers will find themselves wanting to know more – and yet more. The small surprises are a delight.
This is not fast-paced as has become so trendy of late; and it is all the better for that. Readers will find they enjoy the thoughtful reflection, as well as thorough description. It is all so much more revealing about the characters. The Duke's Wager has heartfelt moments as well as fun, unpredictable action, all in the setting we fans of the English Historical so leave to read. Do add to your "to read" list.



Editor's note:
This article was originally published at Long and Short Reviews. It has been republished with permission. Like what you read? Subscribe to the
SFRB's free daily email notice so you can be up-to-date on our latest articles. Scroll up this page to the sign-up field on your right.