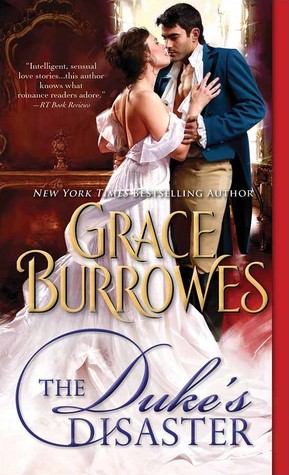 Noah Winters, the Duke of Anselm, needs a wife. It's time to fulfill his ducal duty and produce the required heir. Being the sensible gentleman that he is, he prepares a list of candidates, then culls the list down to one, and proceeds to court her.
After a few weeks, Noah learns that his potential bride is about to become engaged to a mere baron. Rather than being heartbroken, Noah is just annoyed at the time he's wasted. Her companion, Araminthea (Thea) Collins should fill the bill nicely. She's an earl's daughter, sensible, attractive, and surely will jump at the chance to be a duchess. NOT!
Thea is content with her life as a paid companion. While she must give serious consideration to the duke's proposal, she can't see any great advantage in accepting. That is, until the duke agrees to let Thea's younger sister live with them, and be launched into society. This proves too much of an inducement, so Thea accepts. But, still, there is something she needs to tell Noah before the marriage, a secret that he has to know. Fate seems to be plotting against her, and Thea can't find an opportunity to talk to Noah alone. Before she knows it, she is married, and she's facing her new husband on their wedding night. The circumstances that Thea wanted Noah to know about before the wedding are now revealed, and Noah feels betrayed. He makes the decision that they will have to wait for any sexual intimacy, and he will decide whether to put Thea aside or stay married.
I felt for Thea, as we learn later that she was truly a victim. She's a kind person, who took her job seriously and didn't bemoan her fate. I do think she should have insisted on finding a moment alone with Noah before their marriage, but can't we all relate to putting off an uncomfortable situation? After the marriage, she did her best to be the kind of duchess Noah needed, while she waited to see what her fate would be. Noah describes himself as not a nice person, but I have to disagree. While he did make a few cutting remarks at first, he came around to treating Thea as his wife, giving her every courtesy. Soon, the two are growing closer, and coming to like each other very much. They begin touching each other, even sleeping together, but not sexually. Before the issue of the marriage is resolved, it turns out that Noah has a secret of his own, something major that he should have told Thea before the wedding. As Thea steps up, and takes this in stride, my admiration for her only grew.
Finally, they come together as husband and wife. Their amazing chemistry draws them closer together, not only in the bedroom, but in all facets of their life. As it looks like their happy ever after is assured, the past intrudes, and it hits close to home. Noah and Thea are going to have to be strong and remain united in facing new threats and past demons. Grace Burrowes excels in her character development, and her ability to turn the ordinary into something intimate and special. Sharing a cup of tea, or a meal becomes so much more. One scene in particular had the tears flowing. This book is warm, touching, emotional, sexy, and had me staying up reading into the wee hours. Most highly recommended



Editor's note:
This article was originally published at Long and Short Reviews. It has been republished with permission. Like what you read? Subscribe to the
SFRB's free daily email notice so you can be up-to-date on our latest articles. Scroll up this page to the sign-up field on your right.