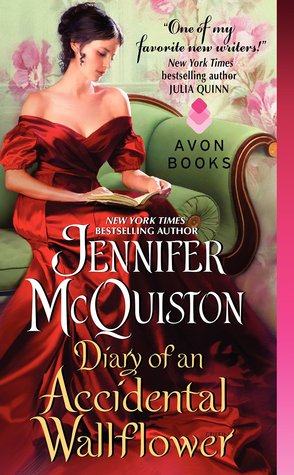 Clare Westmore is on top of the world. She's the daughter of a wealthy viscount, she's beautiful, she's popular, and it seems she has caught the attention of the heir to a dukedom. When an accident leaves her with a badly sprained ankle, she's determined not to miss any social functions, so as not to lose any ground. She wears one larger shoe on her injured foot, and attends a ball anyway. The pain is so great, that she realizes she will never be able to dance, so she is forced to take a seat with the wallflowers. Sitting in this spot seems to make her invisible, and gives her a whole new perspective, as she watches her best "friend" flirt with her ducal heir.
Dr. Daniel Merial is attending this ball only to keep an eye on its hostess, who is gravely ill, and likely doesn't have much longer to live. When Clare walks, he can see that she is badly injured, and offers to look at her ankle. Clare isn't keen on the idea, but her mother invites him to their home to examine her. Daniel is eager to acquire new patients, especially wealthy ones, who may refer him to others. He gave up his established practice, and came to town to conduct research on how to administer anesthesia, using his own funds to do so. Daniel is not an aristocrat, although his mother was gentry. He is immediately attracted to Clare, although she makes no bones about thinking she is better than he. Her injury turns out to be one that will keep her incapacitated for several weeks, and will cause many visits from Daniel. With each visit, Clare finds herself becoming attracted to Daniel as well, though she's not at all happy about it.
It was easy not to like Clare much at first. She appears superficial, only concerned with her popularity and making a good match. Some of her remarks to Daniel are cutting and hurtful. We see her begin to change as the tables are turned. When circumstances make her a victim of gossip, and she is cut by her former friends, she starts to realize how it is for the "other" girls. Adversity makes her stronger, and I love the person she becomes. Daniel, on the other hand, is hero material from the start. He is caring and generous to a fault. He has very little, but is always giving to someone else. Despite his lower birth, he is willing to risk a relationship with Clare. His parents were of unequal birth, and were very happy, leading him to believe that strong love will overcome everything.
Jennifer McQuiston is a new author to me, and I love her writing style. Her characters were imperfect, but evolved and grew. There were many plot twists to this story, and she never took the easy way out. Daniel and Clare had to commit to their relationship, difficult as it was going to be, without any magical solutions, and it worked. Their happy ever after was all the sweeter for it. I highly recommend this very satisfying read, and I'll definitely be looking up other work by this fresh voice in historical romance.



Editor's note:
This article was originally published at Long and Short Reviews. It has been republished with permission. Like what you read? Subscribe to the
SFRB's free daily email notice so you can be up-to-date on our latest articles. Scroll up this page to the sign-up field on your right.