It seemed like a good idea at the time: kidnap your adversary's daughter; secure a truce with all the necessary stipulations. Unfortunately, things didn't go as Darque planned, for reasons he'd never anticipated. Now what would he do with his new prisoner? He debates sending her back to her father, but when he learns why her capture wouldn't procure the results he wanted, Darque doesn't think sending her home is a good plan either. Had she been some horse-faced, sharp-tongued, disease-infested wench, his decision might not have been so difficult. But she wasn't. Aisling was far too precious to be a pawn in the war between the North and South, and he loathed himself for trying to make her one. When his mother offers a solution to his dilemma, Darque is both aghast and intrigued by the suggestion. Kidnapping the Lord High Chancellor's only daughter hadn't gotten him what he'd wanted, but maybe it would be the one thing he needed.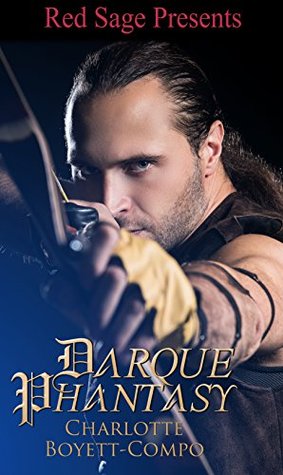 Aisling is understandably terrified when she is taken prisoner by Padraig, who serves as the warden for Daingean, the stronghold of Darque Anbhás, her father's enemy. But little does her captor or his master know that they've wasted their time if they hope to gain any leverage with her. Her father would more likely bargain with them to keep her as opposed to gaining her back. She'd merely traded one prison for another. She wondered what the Taoiseach—the chief—of Daingean would do when he discovered his efforts had been in vain. If what her captor's vile claims were true, then she was truly damned. Her father hated her despite her intact virtue; he would likely execute her if Darque returned her sullied and valueless. He was considered the vilest man alive to the people of the south. No one would want her once he took her to his bed.
Darque Phantasy by Charlotte Boyett-Compo grabbed my attention from the get go. I love paranormal beasties and witches so this book seemed a perfect match for my tastes. While I did thoroughly enjoy the storyline, there were some things that kind of left me clueless. Aisling is a witch, but she doesn't seem to have much power until later in the book when she teams up with Darque's mother to perform a daring rescue—which was quite brilliant, by the way. Darque is supposed to be a werewolf but other than just having the knowledge that he is one, there is no evidence of it throughout the entire book. In fact, the only person who turns into a wolf is his annoying ward, Maire, and that's only because she's throwing a temper tantrum. I'm not really sure what purpose labeling him as a werewolf served.
Some other things that seemed off was the presence of technology—laser cannons, vid-coms, vid-pads, but the absence of transportation. Everyone rode horses. It seemed a bit at odds. The clothing threw me as well. The women dressed in lavish gowns—I envisioned like the 1800's—yet the men wore blue jeans. This is one of those books that you just have to go with it. Once I quit trying to reason through these things and just focused on the plotline, I fell right into the story. Or maybe I'm just a sucker for certain scenarios. Despite these oddities, I fell in love with Darque Phantasy fairly early on. There were so many different directions this story could have went, but I think Ms. Boyett-Compo did a fine job with the one she chose. I've been a fan of hers since I stumbled across her Reaper characters. She is truly a talented author and I haven't found a story of hers yet that I didn't like.
This might stretch your imagination a bit, but if you give it a chance, I think you'll find Darque Phantasy quite intriguing. While politics state they should be enemies, Darque and Aisling are both tortured souls who find healing and passion in the arms of each other despite the betrayal of those closest who seek to tear them apart. This book is quite a ride, one not to be missed.




Editor's note:
This article was originally published at Long and Short Reviews. It has been republished with permission. Like what you read? Subscribe to the
SFRB's free daily email notice so you can be up-to-date on our latest articles. Scroll up this page to the sign-up field on your right.