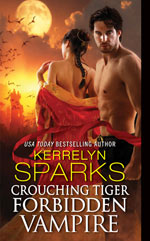 I can't believe this is the last book in the series but at least Ms. Sparks is ending it with a bang and with a happy ever after for a character that I've been eagerly waiting for what seems like forever. I still remember picking up her first book, How to Marry a Millionaire Vampire only because it tickled my funny bone about a vampire that lost a tooth and needed a dentist. I liked her writing style, her voice and the world that she created. It was fresh, unique and one hundred percent entertaining. Crouching Tiger, Forbidden Vampire showcases the very same level of skill and storytelling talent that I've come to expect over the years and I'm just as enamored now as I was all those years ago. Ms. Sparks has always delivered romance with a smile although this time my smile is tempered by the sad feelings coming from having to say goodbye to some wonderful friends. Before that happens however, readers are treated to a brilliant and exciting tale.
Russell has been a benevolent yet deadly ghost of a man for quite some time. He is a loner and a man filled with the focus of vengeance for a grievous wrong done to him. And yet, as antisocial as he's been in all the past books, he has a code of honor and even though he denies it, cares for his comrades. He won't call them 'friends' though and that is one of the issues that Ms. Sparks tackles with her hero. When the cards are laid on the table, what gets revealed is chock full with all kinds of emotions and feelings and complications as well as bittersweet realizations. I liked him as a man, a vampire and as a love interest for the heroine, Jia. My favorite line of his, even though it initially drove Jia nuts was, "I don't explain myself." Those four words actually change in tone and subtle meaning as the story progresses because every time Russell says it, it's in a different situation and at a new point in his and Jia's relationship. At first it's gruff and mean and stand offish but after a while, I thought it funny, then endearing and a window into the man himself. I really liked that touch. Russell is a reluctant hero.
Jia is prickly, stubborn and passionate to a fault. She wants justice and revenge as well but being a female, and a royal, means that she's always being thwarted in her quest, until she meets Russell. Their first meeting was volatile, their relationship is tentative yet their awareness of each other as man and woman is filled with sensual promise. The fun for a reader is in watching them both fight it. Jia is also loyal and fierce but she's also an innocent in many ways. Watching her come into her own as a woman and as a partner with Russell is pure entertainment and I like to think readers are going to like her as much as I do.
The villain, Master Han, was a diabolical surprise. Ms. Sparks was truly clever in her handling of one of the main plot twists in the series and I was shocked by the revelations. I also saw a bit of Luke Skywalker's viewpoint about Darth Vader in relation to this story and I thought it to be just as poignant in Crouching Tiger, Forbidden Vampire as it was in Star Wars. Unfortunately, the ending is vastly different. As for other villains, just when you thought all of them were gone, some came back for cameos. Personally, I laughed. I am not sure if other readers will find it as hilarious as I did but I thought it genius. I totally had a giggle fit. And even then there was that one last gasp of 'oh, please let him be forgiven,' that crossed my mind even though I knew it wasn't possible. The crimes were too huge. But that is what the author did, even in the midst of the worst place a person could be, she showed that hope doesn't die.
Briathos and the gang are back for an encore of cryptic advice and sword action. Russell sure had a crash course in celestial beings but he figured things out pretty quick. He had to, there was a new plot conflict to solve. The abducted dragon child also is in this story as well as the talking owl. Plus Howard, lover of donuts, has a few scenes which I was glad of. I like Howard.
I would not call Crouching Tiger, Forbidden Vampire a standalone read. Too many loose ends from the last book are picked up and tied off in this concluding story. In fact, Ms. Sparks ended with an extravagant party and she invited all the fans of this series to attend. It was an extra special visit because I got to touch base with all of my favorite characters one last time and it solidified that not only will Russell and Jia have a happy ever after but it confirmed that all the prior happy ever afters continue to flourish. It made my heart sing. It made me smile. It made me want to read the WHOLE series all over again.
Crouching Tiger, Forbidden Vampire is just perfect. I enjoyed myself immensely and once started, didn't stop reading until I read the final 'thank you' note from the author which was really sweet. I experienced many different emotions while reading this story. There is a lot going on and each chapter provided more clues as to finding the villain, rescuing the child, Russell and Jia learning about opening up to another person, of letting go and gaining the world and a happy ever after that made me laugh as well as sigh. This book was a flawless ending to a great series. I give Crouching Tiger, Forbidden Vampire a hearty and heartfelt recommend to all the fans of the series; it's a must read.



Editor's note:
This article was originally published at Long and Short Reviews. It has been republished with permission. Like what you read? Subscribe to the
SFRB's free daily email notice so you can be up-to-date on our latest articles. Scroll up this page to the sign-up field on your right.