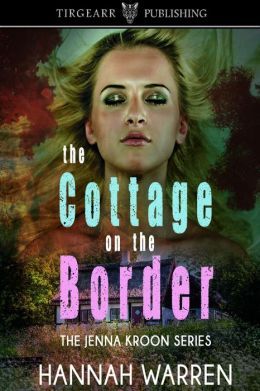 In Hannah Warren's strangely eerie The Cottage on the Border we discover a tangled web of horrors, literally handed down through generations. The odd psychic connection that allows our main character to view the past allows us, as readers, to see it as well. The story resonates with emotion. It will make you recoil as much as rejoice, yet nothing, not even recovery, comes free from this intrigue.
Jenna is a dancer, a marvelous, successful dancer. Her career means everything, but her challenge is always to eat enough, to remain strong…and she fails. Or did she? Was it sabotage? From this unclear beginning, Jenna takes us into the past.
She has, she knows, a 'gift.' Indeed, she discovers the gift in a place that has seen too much and because of her own closeness to death. She discovers her psychic connection to the past; more to memories than hauntings, but haunting memories just the same.
With her brother Vincent's help, in a bid to recover herself, she winds up discovering decades of horror. He's a psychiatrist, and not, she thinks "intuitive" but he is a help, nonetheless. A help to her, in interpreting; for this is the story of others: of her old grandfather, of her mother, also years dead, as much as her own. There were the politics of the times and events no one would have guessed.
Jenna's understanding and reaction to people, choices, and events gives her a different, or changing, perspective to her own life.
This story reveals family connections from WWII era to contemporary times. The people, changing times, noted events all were presented in a perfectly believable way. The writing style is straightforward and readable.
Some measure of wordiness, as well as the odd editing oversights (leaving a typo like 'here' in place of 'her') prevent a top score. Do not let this keep you from reading, however. The Cottage on the Border is an odd but heartfelt and original tale.




Editor's note:
This article was originally published at Long and Short Reviews. It has been republished with permission. Like what you read? Subscribe to the
SFRB's free daily email notice so you can be up-to-date on our latest articles. Scroll up this page to the sign-up field on your right.