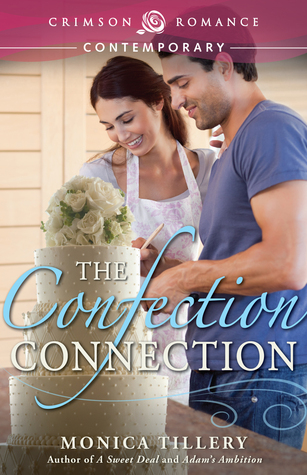 Carly Piper loves her bakery, Caketopia, but funds are tight. She has to leave her assistant behind to deal with a repair guy, so she goes to make a big sales pitch alone. A country music star and his celebrity actress fiancée are planning their wedding, and Carly is determined to get the gig for making their wedding cake. It could put her into the big time and mean she'd never be scraping to pay the bills ever again. Her day seems to go from bad to worse though, when her main competition, Michael Welch, is also at the hotel, pitching his own bakery, too. An administrative mix up means both Michael and Carly are booked into the same time-slot to give their spiel, but instead of fighting it out, they decide to go for broke and do it together. When they're both hired, Carly is equal parts thrilled and scared. She and Michael don't work as a team and with the chemistry sizzling between them, Carly isn't sure they can fake their way through this. But she's determined to try.
I really enjoyed both Carly and Michael's characters. Neither are cookie cutter nor shallow. I found both of them to be complex and multi-layered. Better still, they didn't fall over themselves to get together. Carly knows her attraction to Michael is dangerous and does her best to keep him at arm's length. Michael, well used to his freedom and lighthearted ways, finds Carly's prickly demeanor both entrancing and frustrating. Owners of their own bakeries, they're strong willed, independent and stubborn people. So I found it particularly delightful to watch them come together, at first to hook the celebrity clients, and then later because they realized the depth of their romantic connection.
I also really liked how the plot was complex, a few smaller plots interwoven together. The author did an amazing job taking us along the wild ride of both Michael and Carly both having to work together for the glamorous wedding, making a quick cameo on the reality tv show that kick-started both their careers and the roller coaster of sharing a hotel room while pretending to be a romantic couple. I found the story to be fast paced, but still detailed enough to keep me hooked. I quickly grew attached to both main characters and found myself invested in their fake/real relationship. My only tiny quibble was that nothing about the plot or situation was really stunningly unique. Fun, lighthearted and exceptionally written, this is nevertheless a story similar enough to a few others I've read over the last couple of years. That doesn't detract from how enjoyable I found this, but I'd have loved even just a small challenge or unique twist on the path Michael and Carly took.
I found this to be a very well written story, with exceptionally interesting and vividly drawn characters. The plot was strong and well-woven and overall I greatly enjoyed every moment. Some steamy (though not overly explicit) sex scenes and enough chemistry to light a room on fire add a delicious zing to the story and I found the scenes tastefully and sensually written. A perfect book to curl up with one weekend to while away the time. Recommended.



Editor's note:
This article was originally published at Long and Short Reviews. It has been republished with permission. Like what you read? Subscribe to the
SFRB's free daily email notice so you can be up-to-date on our latest articles. Scroll up this page to the sign-up field on your right.