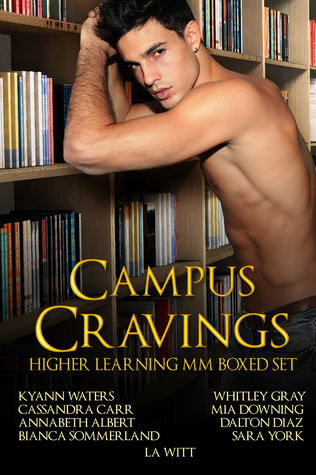 An anthology about gay men in a fictional campus surroundings of Cathia University, with an occasional common hangout, like Palozzo's pizza joint.
Private Lessons by KyAnn Waters
A fairly simple and predictable tale about an out and proud teaching assistant and a closeted jock student. Both want the other in secret. When they realize the attraction is mutual, sex happens right off the bat. This story had no real tension or climactic scene, as Ryan's coming out to his teammates is remarkably swift and accepting. The end result didn't really justify Ryan's fears of coming out. Also, a professor as bad as Turner should be booted off campus. Basically, a hot little fluff piece.
The Dust Of Everyday Life by Sara York
Cole is into music and Seever into swimming. They get together for some hot loving, and are outed in a paper by a homophobic so-called journalist who smelled a scandal and believed everyone would take her side. The writing in this story is okay but nothing special. When it comes to society's attitudes toward gays, however, this paints a wonderful positive image of encouraging friends and strangers. So, not bad.
The Eloquent Jock by Cassandra Carr
Being a jock doesn't mean one doesn't have a brain. That was a nice twist in the set-in-stone jock character. Brendan plays hockey but he's also an English lit major. I appreciated that aspect, how one thing doesn't define you as a whole. A shy professor was also a nice change from the confident and even aggressive alpha male type, and I quite liked Scott, even though at times his reasons for resisting Brendan's advances seemed a little thin. Nonetheless, the sex scenes are hotter than hot. I admit, too, prior to reading this story I'd never heard the term puck bunnies.
Switching Leads by Mia Downing
Lost lovers reconnecting after a decade. What could be hotter? The tension is already there in more ways than one. Since John, a coach for an equestrian team, has plenty of reasons to hate Finn, his alcoholic ex who is also his new assistant, this read like enemies-to-lovers story, which I liked a lot. Making amends through hot angry sex? Why not. Plus, the memories of what they shared, the good and the bad, added a touch of beauty to their reconciliation.
Solid Education by Bianca Sommerland
A cute little rescue dog, Matty, totally steals the show here, which was good since the characters didn't grab me. Derek, a veterinary professor, is something of a jerk. Gage, a veterinary student and ex-military man, has traumas, injuries, and a dead K-9. Derek was really mean to Gage a lot, and I didn't like that. Sure, Matty the dog does bring out Derek's softer side but by then I already disliked him too much to care. Gage deserved better in my honest opinion. In any case, I found that this tale didn't quite fit with the overall campus theme. Just felt like the odd story out, so to speak. The sudden one-eighty to love baffled me too.
Did Somebody Order a Pizza? by L.A. Witt
This story was very well written. Especially the flashbacks to Paul and Cory's student days had quite an impact, reading as awkward and realistic. But… there was a really bad hazing incident and a subsequent breakup. Cory wants Paul back, but I wanted Paul to kick Cory's tail. Cory was not a likable character, and Paul forgave much too soon. This tale of too quick a redemption, told in first person, left a bitter taste in my mouth. There's so much hate and violence and cowardice here it was a bit of a downer.
Winning Bracket by Annabeth Albert
By far the best of the bunch, this story delivers where the others in the anthology have failed. We get a beautiful, awkward, cute, realistic love affair even though Edwin and Ollie start out as sort of frenemies (that's a word, right?). A silly bet over basketball leads to a kiss, and much, much more. Edwin may be the sweet little virgin but he wants his kiss, dammit, and he wants it from popular jock Ollie. I loved their interaction, be it talking or smooching, teasing or goading. Beautifully crafted tale of two young men playing games, bantering, and falling in love. Made me miss real life kissing sessions.
Artistic Endeavor by Whitley Gray
Two artists—a graphic design professor (at 25?) and a painter—are brought together because one is knowledgeable about sex and the other is a virgin. Yeah, the story's predictable in every sense. But both Michael and Cobey were kinda cute, the former playboy who falls in love for the first time and the other a virgin who finds love on his first go. Even when Michael hurts Cobey's feelings by rejecting him, I got that Michael's just scared and falling. There's a lot of kissing, adorable moments, emotions shared, and a slowly forming relationship. This is the longest story in the anthology. Despite the no-surprises plot, the ending was sweet.



Editor's note:
This article was originally published at Long and Short Reviews. It has been republished with permission. Like what you read? Subscribe to the
SFRB's free daily email notice so you can be up-to-date on our latest articles. Scroll up this page to the sign-up field on your right.