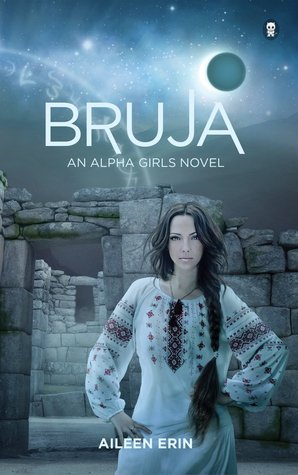 This series keeps me glued to my chair every time I pick up the latest book just because the characters are always up against impossible odds. As the fourth book in the Alpha Girl series, Ms. Erin has solidified the core group of people that carry the overall story arc on their shoulders. Tessa is usually the main protagonist but in this story, her cousin, Claudia, is the heroine who has to find the ingredients to fight the next phase of the war against the evil witch, Luciana.
Luciana is a first class villain. She does not have any scenes in Bruja but her vile and dangerous influence is felt throughout the novel. Her machinations have resulted in a threat to Claudia's brother and it's a race against time to save his life. Talk about pressure! And, it's the impetus for the heroine to swallow all her doubts and fears and embark on a journey to Peru that will change her life.
The scary thing is that she has to rely on a mysterious werewolf who doesn't talk much. She really had to find the courage within herself to venture so far from home. It's a huge responsibility, and, because Ms. Erin told this story in first person point of view, I was in Claudia's head the whole time. I really felt for her. So much pain, fear, worries and eventually, here's the good part, hope. It's the promise of hope that gives her the will and determination to see this through.
Another story twist I liked was when she met Marcus. Talk about swoon-worthy. He was the last thing Claudia expected but based on the relationship with Tessa and Dastien that I've read about in the previous three books, I had a good idea what was about to happen. It couldn't have happened to a more deserving heroine; Claudia deserved to be loved for who she was, not what she could do and what she could offer. I really had no idea to what extent her powers were, or the lengths the villains would go to get what they wanted, so, not only was the heroine shocked, so was I. There were so many narrow escapes in this novel, my eyes were dry from staring wide-eyed for too many chapters in a row. Was she ever going to catch a break? Was another person she cared for going to die? It was questions like these that guaranteed my reading this novel until the exciting conclusion. It was very exciting, dangerous and the writing captured the very essence of all that turbulent emotion.
I'd have to say that Bruja has a happy for now ending because this isn't over. There's a ginormous battle coming in the next book in September and everything that Claudia learned in this story is going to be applied somehow in the next. I can't wait, I'm excited and September can't come fast enough. This series has been a pleasure to read from the get go and Ms. Erin has yet to lose her edge. The writing is as sharp and vibrant as in the very first book. I'm such a fan. I hope other paranormal romance readers discover this series too. It's a winner.




Editor's note:
This article was originally published at Long and Short Reviews. It has been republished with permission. Like what you read? Subscribe to the
SFRB's free daily email notice so you can be up-to-date on our latest articles. Scroll up this page to the sign-up field on your right.