A big shy biker taking a chance. A smaller tech nurse harboring a big secret. Can they make things work?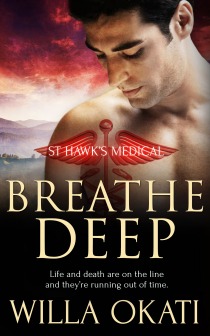 Relatively few authors can accomplish big things with a low word count, cutting straight to point and delivering a novel-sized package in a novella. Willa Okati is one of these authors. Her writing style is engaging, smart, and sexy, and her characters feel realistic, flaws and all. Shepherd is a big, big man who's shy, and Kit is a cancer survivor with a heart of gold but a couple of insecurities due to his past. So, obviously the pairing offers some intriguing personality contrasts, and Okati delivers, giving us a cute romance. Their first encounter is fraught with immediate chemistry but though the attraction is instant, the relationship grows naturally. Kit and Shepherd together were so sweet I almost got a tooth-ache!
But (isn't there always a but?) this story has a couple of issues. They may be a personal take of mine, so don't be deterred from this story simply due to my say so. The first is Kit's cancer—which he refuses to admit might be back and so he refuses to get tested. Yes, it's totally understandable and relateable to feel scared at the prospect of a deadly sickness. But he works at a hospital and as a nurse has a better than average knowledge of cancer symptoms. So him turning a blind eye felt a little forced and it didn't make much sense. Second, Shepherd is akward and shy because of his size and sweet nature, but he does something uncharacteristic when he learns of Kit's condition that it kind of took me off the moment. It simply didn't feel like something he would do.
Despite those issues, this book packs a punch. A romance under the threat of a recurring cancer? It's not easy to show a story complete with both tears and humor, but Okati manages to do that. Of the side characters, especially Kit's favorite patient, Gib, is one of the bright spots of the whole book with his cantankerous cussing. In fact, he's something of a driving force of the plot.
In the end, however, is this a tearjerker? I suppose that's up to the reader. I know I went through a couple of tissues while reading this. So overall a good romance with a healthy (pardon the pun) dose of realism to keep our guys on the edges of their seats, same as us readers.




Editor's note:
This article was originally published at Long and Short Reviews. It has been republished with permission. Like what you read? Subscribe to the
SFRB's free daily email notice so you can be up-to-date on our latest articles. Scroll up this page to the sign-up field on your right.