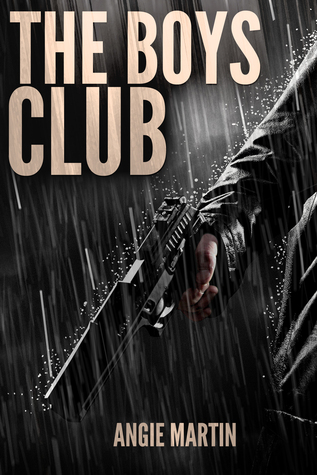 Assisting the law by using their own method of justice, The Boys Club has an evoking plot that drew me into the suspense in the first chapter.
Gabriel Logan's life has been the definition of unfortunate circumstances. One of those earlier unfortunate circumstances is what leads him to meet Jim Schaffer, which ultimately introduced him into the boys club. The Boys Club is an organization created to help troubled young men and put them on the right side of the law.
When his life seems to have taken a turn for the better, his world is shattered when his pregnant wife is killed. Years later Logan still hasn't dealt with the lost of his wife. He is still heartbroken and the break is even deeper knowing the man that killed his wife is still free. Has his chance for vengeance drawn near when he is assigned to protect the daughter of man who killed his wife?
The Boys Club is well written in a writing style that I enjoy. It's a great story that isn't wordy or filled with unnecessary dialogue and description. This is the second book I've read by this author in which I enjoyed her writing in that novel as well, Conduit. Her writing is satisfying. Her stories flow and have a sense of realness. The character she create have personality and feelings. This type of writing is one that I enjoy and find pleasure in reading.
For some reason I thought there would have been more action; maybe the title, the awesome book cover or the line of work that Logan is in gave me that impression. But personally I found this book to be a heavy percent more geared towards romance. Not saying that as a bad thing because the author's writing is written where I could see the actual scenes played out as I was reading. And yes the book did include some action scenes that I had to squint my eyes while reading. There also was a scene where I noticed my heart rate increased in anticipation of how things would play out. I wanted new love to prevail and the bad guys were interfering with the 'happy ever after' ending I had in my mind for the main character.
With the attraction between two lost souls I couldn't help but find myself hoping the best out come for them. Sara Langston is pretty much a loner besides her best friend, Mary Flynn. Sara is the daughter of a wealthy and powerful man, Hugh Langston. With an arranged marriage lined up and a job picked out for her along with her own personal security detail, Sara longs to rebel at being controlled so much by her father and fiance. Now that her wedding day is approaching she is hesitant and questions herself about the marriage and the future that has been planned out for her. Will she stand up and voice her true feelings before it is too late?
I enjoyed Sara's character because I felt she was a strong woman, but she was unsure of how to cut the string that her father had on her. For some reason I thought Logan could have been stronger; it seemed he was wallowing in grief still and not really dealing with his pain. Meaningless sex, risking his job, for a moment I thought that he would lose his sorrows in temporary satisfaction of the bottle. I was glad to see that Sara opened up places in his heart that only his wife touched. He was dealing with unresolved pain, and obviously he had a void in his life that he was trying to fill.
I enjoyed the story and for some odd reason I can see a series continuing The Boys Club, with the life of Logan and Sara as their story continues on.



Editor's note:
This article was originally published at Long and Short Reviews. It has been republished with permission. Like what you read? Subscribe to the
SFRB's free daily email notice so you can be up-to-date on our latest articles. Scroll up this page to the sign-up field on your right.