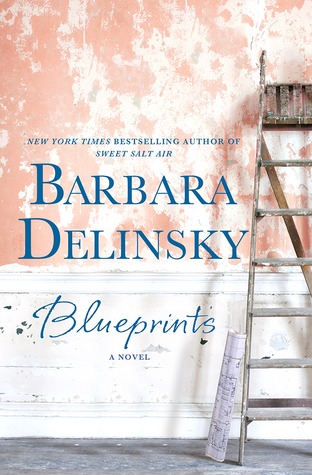 Blueprints starts off in a slow, easy manner and gains speed as Barbara Delinsky reaches into the depths of the main characters' minds and hearts at a life-changing. Emotions churn inside them, under their can-do, professional façade.
Like so many women in real life, Carolyn, age fifty-seven, and her daughter Jamie, age twenty-nine, define themselves by their professions. They compete in male-dominant professions and downplay their sensuality. Neither realizes it, until two modern superheroes ease into their lives and awaken passion, not just the sexual kind, but also passion for life itself.
Blindsided by a change other people demand in their roles in a TV show they do for the family business, Carolyn and Jamie are at odds with each other—a conflict unusual for them. Self-esteem and self-worth come away with some bruises. How they heal and move on makes compelling reading.
They are forced to come to grips with who they really are after the death of Carolyn's ex-husband—Jamie's father. He has been a major player in the family business that they have all dedicated their time and talents to for years. Their intellectualizing leads them one way. Their feelings lead them another way.
The upheaval after the tragic death leaves Carolyn watching over, and more and more filling the shoes of her ex-father-in-law who started and heads up the family business; while Jamie becomes guardian of her precious two-year-old half brother—a role she has no skills in. Love for the little boy compels her to make adjustments that play havoc with her pristine, orderly lifestyle.
The two super heroes mentioned won this reader's heart. Both are "manly" men who are steady, trustworthy, helpful, and totally supportive. Dean, a longtime friend and colleague of Carolyn's, is comfortable in his own skin at this stage in this life. He eases into her life and becomes SO much more than a treasured friend. It's as if she sees him for the first time after all their years of working together. He protects, challenges, chides gently at times, all the while awakening the passionate part of Carolyn that had always been dormant.
For Jamie, drowning in motherhood, is rescued by Chip, a bad-boy hockey player turned teacher. He is a single parent who learned by trial and error. How their relationship evolves is captivating. The love they share has sizzle and SO much more. It makes one's heart feel good.
Barbara Delinsky, in her very special way, immerses the reader in the lives of the characters. Blueprints is a keeper to read more than once.



Editor's note:
This article was originally published at Long and Short Reviews. It has been republished with permission. Like what you read? Subscribe to the
SFRB's free daily email notice so you can be up-to-date on our latest articles. Scroll up this page to the sign-up field on your right.