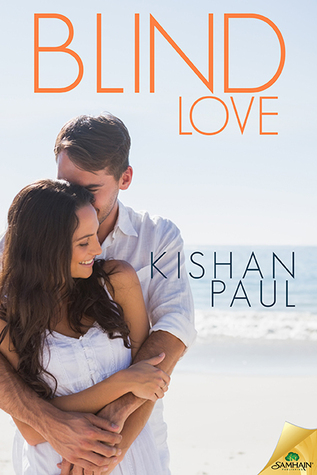 Lauren works from home as a counselor and is very good at her job, but her new next door neighbor is doing renovations and making it difficult for her to work over the phone. Lauren might be effectively blind – she can see colours, shadows and shapes but nothing too clearly – but she's got enough sight to know Gabe is handsome as sin. After a flustered conversation asking him to keep the noise level down she somehow found herself agreeing to go out to dinner with him. Lauren was panicked, but didn't want to turn down the opportunity once it had been thrust at her. Despite feeling in over her head, maybe it was time for her to start trusting men again….
This was a really heart warming story with a solid plot and interesting characters. I connected almost immediately with both Lauren and Gabe and had a strong interest in seeing them come together. Lauren could be too independent at times, but having had to come to terms with her life after losing much of her sight and rely mostly on herself it's not a wonder she is how she is. A cheating ex husband also complicated her ability to trust and made me feel sympathetic and proud of her self accomplishments. I was also thrilled by how observant Gabe was. He caught onto all sorts of little things that usually go completely unnoticed or uncommented upon – with just a "he was really observant" tag. Things like he counted how many paces Lauren took to get to her front gate, then down to the corner of the street, and – before he knew she was blind – he realized that her steps were deliberate, carefully counted each and every time. That sort of detail really made me glow for Gabe and I was smitten even before he and Lauren went on their dinner date.
It was refreshing to also have whole chapters of being introduced to the characters, their personal situations and all these sorts of details. I loved the pace the story took. A slow burn – plenty of time to get to know the characters – and for them to come to fully appreciate each other. In that respect I found this to be a lovely example of a more traditional romance story, with time to relish each character and no need to rush. Having said this, the author didn't dawdle when it came to the romance. I personally was thrilled that Gabe caught on to the half-lie Lauren told when they were introduced (that her "boyfriend" Jack was in fact her dog) and the issue of whether Gabe was chasing Lauren while she was "with another man" was mostly (for me at least) a moot point. But even so Gabe was tender with her, he didn't rush Lauren but neither did he slink away and sulk. I thought much of these two interesting characters were balanced between reality and romance-book material.
I found the conflict part of the plot a little clichéd, but even so this was a minor issue when the characters were so fresh and interesting, and their romance really consumed center stage and kept my interest the whole book through. I loved the intimacy – smoking hot but not overly graphic or envelope pushing. Gabe and Lauren's chemistry was just another reason I loved both their characters so much.
Overall I found this an amazing story full of excellent characterizations and a good, solid pace. I thoroughly enjoyed it and will happily look for more books by this author. Recommended.




Editor's note:
This article was originally published at Long and Short Reviews. It has been republished with permission. Like what you read? Subscribe to the
SFRB's free daily email notice so you can be up-to-date on our latest articles. Scroll up this page to the sign-up field on your right.