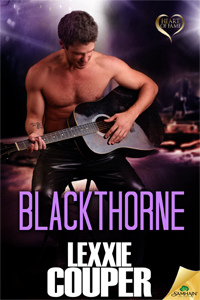 Blackthorne is Lexxie Couper's final Heart of Fame book, and in it we have come full circle. In book one it was Nick Blackthorne, learning he was the father of a teenage son, Josh. In Blackthorne, Josh is the music star that has far eclipsed his father, and is ready to settle down to a quieter life.
It has been five years since Josh Blackthorne became the singer for Synergy, his father's former band. Five years of success, surpassing his every expectation. But life isn't all fun and happiness; Josh has picked up a stalker, and that man has been released from custody. Josh decides to escape to his roots back in Australia, and stay under the radar, laying low. When he and his long time pal Rhys decide on a night out, Josh decides to try out the hottest club in town, run by bodyguard Live Reynolds' niece, Caitlin. Caitlin has worked hard to make her club the in spot, and she isn't about to let to celebrity pretenders try to put one over on her. After all, with no entourage, these two can't possibly be Josh Blackthorne and Rhys McDowell, two of Australia's most celebrated public faces. Caitlin shouldn't feel the way she does once she spends time with Josh; after all she was engaged before her doctor fiancé shipped out to Somalia and went missing. As Caitlin and Josh spend time together, she falls for him, and Josh feels the same for her, although all their time together is purely platonic, as Caitlin hides behind her 'engagement' to keep Josh at arm's length. Just when life has shown them that love is there, Caitlin's 'fiancé' returns, leaving Caitlin confused and Josh shattered. Can the two star crossed lovers find their way back to each other? Can Caitlin find a way to let Matt down easy and follow her heart?
I love this world that Ms Couper has built, and the characters that inhabit it. These are people who feel like old friends, and it is fun to see characters from earlier stories and how they have fared in life.
Caitlin Reynolds is smart, determined and has made a success of the club she built on her own. She is attracted to Josh, but is also afraid to get involved after the pain and trouble of her last relationship. I like watching as she learned to love while spending platonic time with Josh, coming back to life and wanting it all. I like Caitlin's sassy attitude and her strength of character, and the bit of snark she reserves for friends and family.
Josh Blackthorne is sexy and smart and talented. But he has never become the hedonistic rock star that his father was; his band mates and his family have kept him grounded and sensible. He has had a small crush on Caitlin since seeing a photo of her on her uncle's shelf years before, so meeting her and feeling the attraction between them flare to life just makes it better for him. I like that Josh was willing to go slow, not rush Caitlin into something before she was ready. And I really enjoyed some to their antics as they learned about each other's wants and needs.
There are some twists and roadblocks to Josh and Caitlin's happy ever after, and as with the rest of the story, these twists were handled with grace and intelligence by all the characters involved. There is chemistry and passion throughout this one, and I highly recommend the entire Heart of Fame series, but Blackthorne can also be read as a standalone story. I hope that Ms Couper will revisit this world from time to time, with updates on favorite characters and their lives.



Editor's note:
This article was originally published at Long and Short Reviews. It has been republished with permission. Like what you read? Subscribe to the
SFRB's free daily email notice so you can be up-to-date on our latest articles. Scroll up this page to the sign-up field on your right.