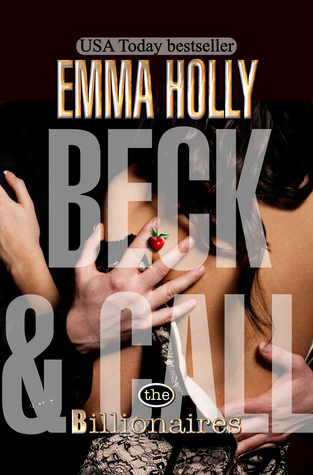 Ready for an erotic romance that will blow your socks off? Give Beck & Call a try because Ms. Holly loaded this novel up with all the good stuff. The author introduced three characters that are all unique, quirky in their own way, and how they all mesh is a wonderful orchestration of personalities.
Damien is the aloof control freak with money to burn and a heart to protect. Jake is hardened ex-military with some experiences that inadvertently come in handy but who is doing his darnedest to stay away from the innocent and delightful Mia. Mia is the sweet custard filling in the middle of the treat. Yes, she's a nice girl with a yen to please those she cares for but there's nothing vanilla about this girl. She thinks she's bland but when a case comes their way at the investigative company she works for, it means taking on a new challenge where her special skill and sunny personality provides the edge they need.
In the course of the case, Mia finds out more about herself than she thought possible and it's very exciting. The reason why it's such a page turner is the fire and sparks that erupt between Jake and Mia. The seduction was set in motion in the first chapter and the rest of the book takes a reader on a journey of sexual exploration, revelation and relationship development. Ms. Holly has perfected the telling of a romance while between the sheets, in the kitchen or wherever else passion overtakes her characters. Interspersed throughout are insights into what makes the characters tick because the point of view is told through all three characters, but Mia's POV is a bit more prominent.
While reading the love scenes I saw the characters share secrets and insights about themselves which made what they were doing less about sex and more about falling in love. It wasn't just about touching each other's bodies but their hearts. The hardest heart to reach was Damien's. His situation was unexpected and I really felt for him. However, once the HEA was reached, I had the distinct wish that he, with Jake and Mia at his back, would stand up once and for all to the perpetrator of his greatest hurt and stand tall and proud and tell that person that they had no more power over him, that he found people who love and believe in him. Because that is what Damien found in Mia and Jake – people who really won't let him down, who believe in him and love him no matter what. And for me, that was the absolute most stupendously wonderful and powerful moment in the book. If I had to choose whose story was most compelling, I'd choose Damien's.
Less a reader think this novel is only about sex, I have to mention the very devious little drama that plays out. There's a bit of corporate espionage going on but I had no idea which way it was going to go, and when the conflict came to a crisis point, Ms. Holly presented a gripping and exciting conclusion which included a bit of military style help, cool gadgets and some crazy and delusional people to mess things up. It was very action packed.
If I could ask for things to make this book better, it would have been to get a clearer insight into Jake, to understand how Jake fit into the club scene. It was sort of hinted at and it was definitely titillating and intriguing but I was left unsatisfied. I can guess it was because it might have detracted from the main story but … just what was Jake and Curtis's connection when they gave each other those looks? Did I miss something? One thing is for sure, this book is easy to re-read, so maybe I'll figure it out with round two. A clever thing I did figure out was the novel's title. I got a kick out of that.
Beck & Call is truly a romantic erotic story not to miss. Fans of Ms. Holly can be excited about this one; it's a great showcase of her storytelling strengths. I'm a happy reader.



Editor's note:
This article was originally published at Long and Short Reviews. It has been republished with permission. Like what you read? Subscribe to the
SFRB's free daily email notice so you can be up-to-date on our latest articles. Scroll up this page to the sign-up field on your right.