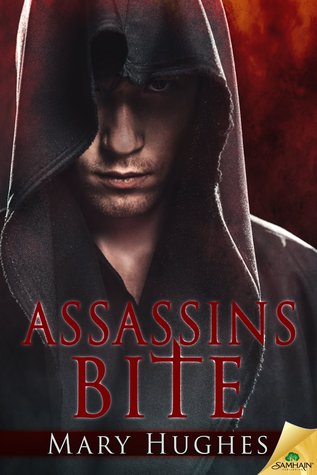 Assassin's Bite is the eighth book in Mary Hughes' Biting Love series, and it is my favorite of the series so far. This is a marvelous world, filled with sexy vampires and the people who love them, all in a small town called Meiers Corners, where life is lived just a bit off the norm. The characters are all well crafted and charismatic, even the bad guys are fun and enjoyable. I love the passion and humor that is present in each of these books, and look forward to each new episode set in this world.
A life lived in the shadows, trained as an assassin by Nosferatu, leader of the Chicago coterie of vampires, Aiden Blackthorne broke away from the evil leader, along with his best friend Ric Holiday. Aiden and Ric have been on the run, avoiding both Nosferatu and the leader of the Iowa group lead by Mr. Elias. Now Aiden is alone, as Ric found his mate and has settled down somewhat from the dangerous part of a vampire's life. Now, into Aiden's life comes brand new police officer, Sunny Ruffles, one of Meiers Corners finest. Lifelong friends with many of the mates to the vampires of Meiers Corners, Sunny is aware of the existence of 'V-guys' as she euphemistically calls them, although she never expected to meet one up close and personal. And Sunny suffers from the Ruffles curse; whatever can go wrong will go wrong, and if it requires grace and poise, it will definitely not happen. After being attacked by a gang of rogues, Sunny is rescued by Aiden, and that rescue also saves Aiden from a bomb set for him. Aiden realizes that Sunny is his mate, but hesitates to involve her in his dangerous life, but she keeps showing up where he is and rescuing him in odd circumstances. When it comes down to a confrontation with Nosferatu, Aiden realizes it is time to ally himself with the good side, and makes a stand once and for all. Can Aidan and Sunny overcome the odds and find a way to be together? Can Sunny beat the 'Ruffles Curse' and become the police officer she has always dreamed of being? Will this unusual group of heroes, both vampires and humans, be able to stop Nosferatu and find some peace for a while?
Aiden Blackthorne is a loner, used to living in the shadows and being alone. He is strong and loyal to those he cares about, and is not looking for a mate. When he is 'rescued' by Sunny the first time, he recognizes that she is his, but doesn't think he deserves to claim her. I liked watching him come to terms with his past, and open up to the possibilities of love and of a life less hidden and alone. I like the chemistry between Aiden and Sunny, with lots of heat and some humor as well.
Sunny Ruffles is determined to become a detective, like her hero, Elena Strongwell. She believes in the Ruffles curse, even though she is an adopted Ruffles; the curse being that they are clumsy and klutzy, and if it can go horribly wrong it will. She is attacked by vampires, rescued by Aiden, and then keeps him from being blown away by a bomb meant for him. She is instantly and insanely attracted to him, and I enjoyed watching as she worked her way under his defenses, finally convincing him that they are stronger as a team.
In this book, as in all of the Biting Love books from Mary Hughes, Meiers Corners is a character in its own right; it is quirky and unusual, and at times, laugh out loud funny. When the various factions decide to unite against the common foe, Nosferatu, there is a grand battle with several surprises and a delightful outcome. There is actually more than one adversary in this story, and the way Ms. Hughes manages to tie the major story threads together is nothing short of inspired. I recommend reading this with a fan and ice water, because this one is hot enough to melt the screen of any device. This can be read as a standalone, but the best impact is felt if the previous books are read as well.



Editor's note:
This article was originally published at Long and Short Reviews. It has been republished with permission. Like what you read? Subscribe to the
SFRB's free daily email notice so you can be up-to-date on our latest articles. Scroll up this page to the sign-up field on your right.