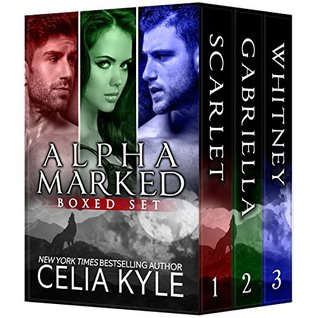 Three sisters, three dynamic personalities with their own special quirks are summoned to appear at a mating event, but one doesn't belong there with the other two, or does she? Each story tells the tale of how each lady finds her mates and ends with an epilogue that segues into the next until the final story. These were incredibly fast reads that are highly entertaining and enjoyable.
It's the paranormal aspect that allows the main characters to go from the initial meeting to 'hot-to-trot' within minutes of being in each other's proximity. I like that the author included a valid reasoning and a tradition that all characters on stage have been tutored and trained in. What I liked is how the author interjected a unique conflict and drama in each one to give the plots teeth and motivation. They all worked for me but especially the last one.
Scarlet's story sets up the world building and the crux of the story arc. Gabriella's turn was fascinating because for all her humanness, she turns the tables on her combatant and proves she's not as weak and discombobulated as she sometimes came across. It was a wonderful surprise. It's amazing what love will motivate a person to do. Finally, Whitney's exciting adventure wraps up the trilogy in a grand style because it exposes a deeply hidden lie and blows the lid off of an evil conspiracy. Ms. Kyle saved the best for last.
All the male heroes are hunky, totally alpha and aim to please their women. The author saved all the sexy fun hijinks for later in each novella once the heroine and her heroes have jumped the dramatic hurdles they were confronted with. Sex is the goal but love is the prize.
I enjoyed the dialogue, the settings and the discourse between all the characters in each book. None of them were copies of the other but were unique and special in their own ways. Erotic romance readers will thrill to all the three-way action but none of it would have worked without the wonderful plots they were couched in. Yes, they are short but Ms. Kyle focused on giving readers the best experience in the quickest amount of time. So, if a reader can only read a story a day, the enjoyment can be spread out. As for me, I couldn't stop, didn't want to stop until I read all three, which meant 1 A.M. Ouch.
The Alpha Marked series was a readaholic's treat. I had a lot of fun meeting Scarlet, Gabriella and Whitney and their mates and commend Ms. Kyle on giving me a memorable reading experience. I do so love a good growly alpha, or two.




Editor's note:
This article was originally published at Long and Short Reviews. It has been republished with permission. Like what you read? Subscribe to the
SFRB's free daily email notice so you can be up-to-date on our latest articles. Scroll up this page to the sign-up field on your right.