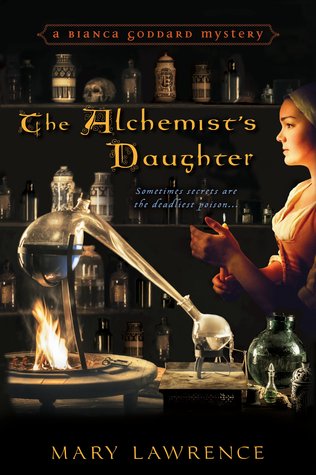 Bianca can do nothing but watch in horror as her friend collapses and dies in front of her. She was a young woman in good health. Could Bianca's herbal tea she'd shared with her be the cause?
This story is set in London in the 16th century. The author does a very good job of getting the atmosphere of the period in place. It's not a pleasant place for those who are short on money. Those with money tend to use other people to enhance their place in society. There are those who live on the streets, those who man carts to try to earn some money, rat catchers who eat their catch, muckrakers, prostitutes, and more on these streets. When someone dies in an alchemist's house, there's no need to look further. Bianca is the murderer, of course.
The author has made Bianca a complicated character. She's so into the chemistry of herbs and trying to create salves for healing that she ignores her love. She's not politically correct, so the constable is more than willing to hang her for the murder. No one is going to save her except herself. John is willing to help, but she won't let him. She's going to regret that.
Trouble from the past is tied into this murder. Ms. Lawrence has done a good job of showing the underhanded dealings of the merchants as well as generally showing the nature of the folk living on the poor side of town. You can feel the darkness and hopelessness that abounds in the shadows. It's a dangerous place at night and even in the day.
This story is not for the weak of heart. There are some ugly truths here and justice does prevail, even if it is administered by God and not by the law. Ms. Lawrence's story will stay in my mind for a while, as I chew over the details. If you read it, you won't forget it.



Editor's note:
This article was originally published at Long and Short Reviews. It has been republished with permission. Like what you read? Subscribe to the
SFRB's free daily email notice so you can be up-to-date on our latest articles. Scroll up this page to the sign-up field on your right.