I've just discovered another world that is so amazing and intricate that it's created a new addiction. Ms. Ivy's When Darkness Comes delivers a hard to resist hook, a premise that is unique and fascinating and characters that come alive between the pages. I'm a happy reader.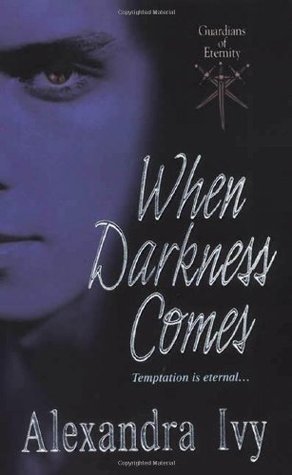 The basic gist is the age old battle between good and evil. In this case, vampires and all sorts of paranormal folk are just variations of demons. I'm not into reading about demons per se, but Ms. Ivy has a clever twist that makes them not as one would expect. Like the heroine found out, demons can be beautiful and harmless as much as they can be harbingers of the end of the world. Sometimes humans can be just as bad, if not worse, than the worst demon. The heroine sure found out about that, too.
The very first chapter was intriguing. I met Abby, a sort of klutzy, sweet but very responsible woman who has had to struggle to survive. She's got this great gig going on that is finally paying the bills. One day she breaks a priceless vase and she thought that was the absolutely most horrifying thing that could happen to her. Call it the calm before the storm. What happens after neatly and efficiently captured my interest, imagination and garnered desperation to read every page, chapter and scene where Abby and Dante try to not only stay alive but save the world from overambitious zealots. This book is a page flipper.
In between all the suspense and drama, Ms. Ivy has Abby and Dante falling in love. It's rocky, passionate and hot. They are wonderful together and their chemistry is off the charts.
Secondary characters are not only important, they are vital. Every single one plays a role and they contributed to the feel of the community, the friendships and the sense of being players on a very large stage. A lot goes on in this book but it's the hints of what is to come that tease the mind and senses.
When Darkness Comes is a must read. It's on my keeper shelf and it's a book that I can't wait to read again. It's infused me with the need to know more about Viper and just what kind of woman will be his downfall so I'm already primed to read the next adventure. I found this novel to be as gripping, exciting and fun as anything I've read in a long time. Not only that but I checked into the next book and was astounded to find out that there are a lot of books in the series. My bank account is going to scream but if they are as astounding and solidly well written as When Darkness Comes then it's going to be money well spent. This book has made me an instant fan. I really, really count myself fortunate that I discovered this series especially because, with so many already written, I don't have to wait. How awesome is that?!?




Editor's note:
This article was originally published at Long and Short Reviews. It has been republished with permission. Like what you read? Subscribe to the
SFRB's free daily email notice so you can be up-to-date on our latest articles. Scroll up this page to the sign-up field on your right.