The Study of Seduction includes a hefty emotional plot that deals with being a survivor of physical violence at a time when such things were never discussed, dealt with, confronted or acknowledged. Women back in the day were victimized twice over because for some twisted reason, society always seemed to lay the blame on the woman no matter how innocent, pure or precious she was. There were some men who had their heads screwed on straight, their compassion and willingness to put the blame squarely where it belonged, on the criminal, made them unsung heroes; and then there were other men who all too easily believed another man over a woman, misogyny at its most vile. This novel explores the results of those two types of men, and how it dominos in time, and a woman who has to struggle to be perfect for society, play by its rules, act like she's like every other eligible lady looking to make a match, yet never reveals what happened to her. In fact she's too embarrassed and has been dealing with it on her own – not that that's working out too well for her. This is the backdrop of the story in which a reader will watch as a romance between Clarissa and Edwin emerges. The plot is a serious one for sure, but the romance between the hero and heroine is beautiful, poignant, challenging, frustrating (for Edwin) and delightful.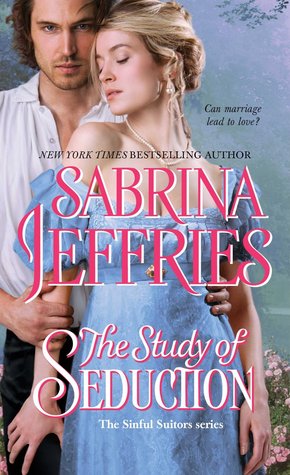 Ms. Jefferies even adds another plot conflict to spice things up. Seriously, The Study of Seduction isn't for readers who want fluffy, cotton candy, brainless fun. This is flavored like a romantic suspense novel, with a mystery to solve and daring villains that seem to have unlimited power to plague the heroine. Certainly, this book is a page flipper because the pace is brisk, the dialogue is crisp and the personality byplays between Clarissa and Edwin were engaging, entertaining and many times, heart wrenching or just so incredibly romantic, they made me swoon.
Another strong element is the secondary supporting characters. They were such a great asset to the novel as a whole. Considering the sheer meatiness of the plot and the intrigues that abounded, the main characters needed people in their corner and the author provided a wonderful cast to help out. The best part came at the end with a big, happy, unexpected surprise that made the happy ever after extra special and exciting. I was thrilled!
My favorite aspect of the book was Edwin's love for Clarissa. For readers who feel a romance is healthier when physical expressions are explored, fear not. Edwin works magic and eventually, Clarissa gets into the swing of things and discovers her inner playful siren. It's all good.
The Study of Seduction is a must read for fans of Ms. Jeffries. This one is a winner. It's busy, and easy to read even if it's about a subject that is a little dark because the author balanced everything just right. I cannot think of a single thing that I would change about this novel. It's well done, well written and an easy book to recommend.




Editor's note:
This article was originally published at Long and Short Reviews. It has been republished with permission. Like what you read? Subscribe to the
SFRB's free daily email notice so you can be up-to-date on our latest articles. Scroll up this page to the sign-up field on your right.