Trust. It's so hard to win and just about the easiest thing to lose. Unless you naturally believe in the innate goodness in all people and then you simply want to make the world a better place. But how do you get the attention of those who have the power to affect the needed changes? You create a tabloid blog and start naming names.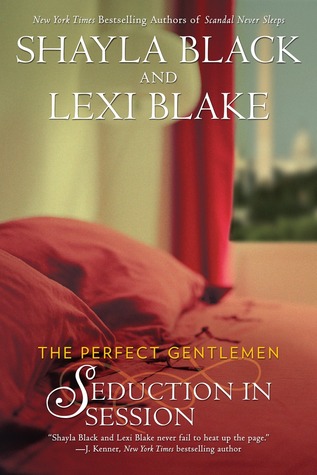 This is the second book in The Perfect Gentlemen series. The mystery that began in Scandal Never Sleeps continues into Seduction in Session. There's a complete story that starts and finishes within these 400 pages but I can't imagine not wanting to understand where it began so, I'd suggest reading Scandal first.
Connor Sparks left an indelible mark on this reader at the end of book one and I needed to see him redeemed. Lexi Blake loves a tortured hero and Connor fits the bill nicely. His background story sprinkled in throughout this book and the little taste of his youth at the beginning all meld together to make him someone I wanted to see happy. But could this hard core, kill 'em if I can't use 'em, never let them see you vulnerable, Agency man find happiness, more importantly peace, with a tree-hugging vegan? I had my doubts but I should know better by know.
Lara Armstrong wants to save the world one tree full of squirrels and one tasty cow at a time. She doesn't find them tasty but Connor sure does and so does her fugly (Connor's word) dog. I liked Lincoln, he may be a shivering mess but he brought some necessary comedic relief to what could have been a really dark story otherwise. I liked Lara, too and she does end up being exactly what Connor needed. He gravitated to her light and didn't even realize it at first.
The book flows smoothly and easily sets up the next in the series, Big Easy Temptation. This mystery just keeps taking on new layers and new players. I started trying to make guesses but there's no way to know the direction it'll ultimately take. So many paths!
Readers who want a healthy dose of intrigue with their redeeming romance should run, don't walk, to the nearest retailer and get in on this series. The heroines are the right mixture of tough but tender and the men are the perfect combination of protective and push-over (not that they'll ever admit that but, the women know). Bottom line, well worth the read and another fantastic series from these brilliant story tellers.




Editor's note:
This article was originally published at Long and Short Reviews. It has been republished with permission. Like what you read? Subscribe to the
SFRB's free daily email notice so you can be up-to-date on our latest articles. Scroll up this page to the sign-up field on your right.