A workplace romance that left me smiling.
Eli is precious. I just wanted to hug him when what should have been a beautiful, albeit certainly entertaining, Christmas concert turned into his personal nightmare. Someone was going to beat me to the hugging part and I was dying, trying to figure out if it would be the adorable Coach Ryan Jeffers or the dark and serious Principal Daniel Collins. I was convinced he couldn't go wrong either way and a tiny part of me was really really hoping he'd get them both. That wasn't to be but I would ultimately be just fine with that and so was Eli.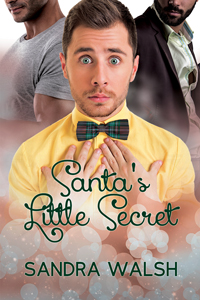 Ms. Walsh kept me guessing. First off he has these tiny tension filled little moments with both men and then longer tension filled moments that screamed "It's him" "No, it's him". I wanted to skim to the end so bad just to see which "him" it would be but, I didn't. Eli is so sweetly unsure of himself and yet he's clearly attracted to both men. I knew I wouldn't be disappointed with whomever he ended up with. Through some very humerus moments and one necessary quick exit, I finally had my answer for sure. It wasn't totally smooth sailing once he finds out the truth behind the gifts but, that's life.
Told from Elijah's first person perspective, Santa's Little Secret is a terrific little short story that I could totally have enjoyed as a longer novella. His secret admirer alludes to time they spent together on school events that didn't quite gel with how very little Eli said he knew about him. I would have liked to have seen, rather than heard about, some of these instances where they'd had contact. Having said that, Eli is easily distracted so it was believable that he simply didn't pick up on the other man's interest.
The men have great chemistry and I wanted to spend more time watching them really get to know each other. I like this author's writing voice, too. I don't always enjoy first person told stories but she did a good job. I would like to have been in his secret admirer's point of view for at least part of the story but that might have taken away some of the tension.
Reader's who like their MM to be light on the actual intercourse but heavy on the tension and romance need to add this one to their short list of must reads. It was completely enjoyable and fun. I'll be checking out more of this author's work in the near future.




Editor's note:
This article was originally published at Long and Short Reviews. It has been republished with permission. Like what you read? Subscribe to the
SFRB's free daily email notice so you can be up-to-date on our latest articles. Scroll up this page to the sign-up field on your right.