She's a dessert rose stuck in the constricting and harsh world of debutantes and she still managed to bloom brighter and standout.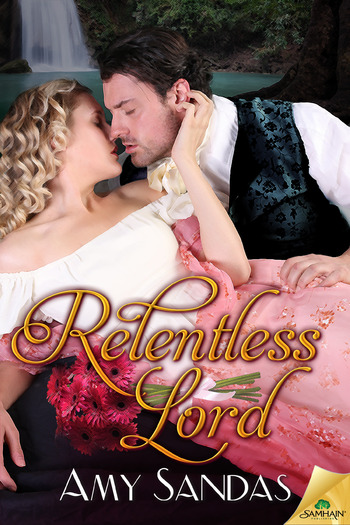 Hannah was easy heroine to like and to root for. She's not a simpering miss and while she's certainly more worldly than the average young lady of the ton, she doesn't flaunt her experiences and she isn't cruel. She is confident, though. I don't like when an author makes the female lead scared of her own shadow, afraid to speak up or walk away when in it's in her best interest and I had to love it when Hannah admits to herself and Miles that she never lies to herself. That doesn't mean she allows herself to indulge in every whim or desire but, she honest in that she what she wants.
I like Miles, too. He's a middle child of a large family and he does what the middle child tends to do. He draws attention to himself by any means necessary, regardless of the positive or oftentimes negative results. I thought it was interesting, his reaction, when he realizes that not all attention is good. When his reputation, though unfounded, nearly costs him the girl. In the end, the author gave me hope that while Miles may see humor in almost all situations, he was mature enough to know when to follow his heart.
This is a quick little read that I would have easily enjoyed as a much longer story. Hopefully, Ms. Sandas will someday decide to revise this and let us meet the other cousin whose tales of ruination led Hannah to try to hold Miles at a distance. I'd like to have seen her reaction to seeing them so very happy together despite her lies. Also, I really really wanted to see Beatrice get what she deserved. What a twit! I hope she has to a marry that awful stick in the mud Lord Hathmore. They deserve each other. Lastly, there's Grimm. Bless him! I want him to find a love match either with the woman his father wants him to marry (that would be a nice surprise) or with someone else and then he can stand up to his father say he'll marry who he wants to.
Those kinds of thoughts are what let me know I really enjoyed a story. I'm able to imagine it drawn out further, side characters having larger roles, unexpected surprises. I walk away still thinking about the book. That's a good read.
Regency historical romance is my first love in books and this was a satisfying read. I'll be following this author to see if she continues this story in other books or simply to check out her other offerings. She has a clean, clear writing voice that put me right into the scene. The details are on target for the time period and I look forward to slipping back in time with her again.




Editor's note:
This article was originally published at Long and Short Reviews. It has been republished with permission. Like what you read? Subscribe to the
SFRB's free daily email notice so you can be up-to-date on our latest articles. Scroll up this page to the sign-up field on your right.