They say opposites attract and there couldn't be two men more different than Steve Ashwood and Allistair Richmond. While one works for the LVMPD as a hostage negotiator, the other is a billionaire playboy without a care in the world. Or so it would seem. As their worlds draw closer together, they begin to discover that not everything is as cut and dried as it once appeared.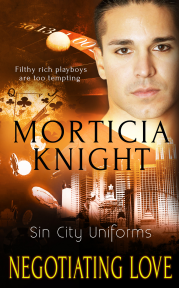 Steve made his first appearance in Held Hostage as a hostage negotiator during the standoff at Brett's clothing store in the Fashion Show Mall. His friends with benefits relationship with Cole was a decent sized part of the previous novel as they were best friends as well as lovers. I'm happy that we got Steve's story this go around because all of his sneaky behavior in the middle of the previous book made me curious as to who he'd found and whether it was going to last or not. I liked Steve a lot, especially the contradictions between his outwardly appearance and his internal desires. It makes for an interesting character.
Allistair, on the other hand, was a completely new character for me. He's also a bit of an odd duck, to say the least. In a lot of ways, he's very adult and focused and in others, he's extremely childlike and innocent. Although his childish exuberance got to be too much at times, I had to remind myself that he wasn't used to the kind of interactions he was experiencing. He did eventually relax and calm down somewhat by the middle of the book and felt like more of a real character by then. By the time I finished the novel, however, I was convinced that he and Steve really were made for each other.
One of the things that makes Negotiating Love different from the previous four books in this series is that part of the storyline runs concurrent to that of the previous book, Held Hostage. It is interesting seeing part of the hostage situation from the previous book play out through Steve's eyes rather than Cole's. This fifth novel also ups the ante with the BDSM play as well. Despite the fact that it went a little farther into the BDSM than I usually care for, the addition of Steve and Allistair's fetish balanced it out for me, giving me an exciting and sexy read.




Editor's note:
This article was originally published at Long and Short Reviews. It has been republished with permission. Like what you read? Subscribe to the
SFRB's free daily email notice so you can be up-to-date on our latest articles. Scroll up this page to the sign-up field on your right.