This naughty list has something to please every reader.
Anthologies are sometimes a tough read when you have to consider each story, good or bad, into your overall rating for the collection.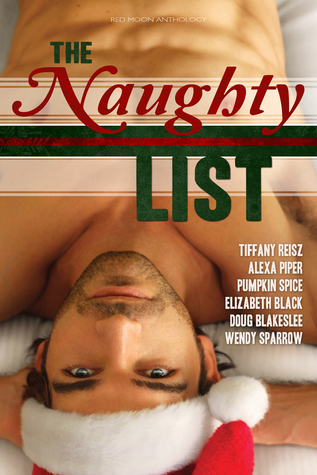 Okay. So every writer has a voice and every voice will not be for everyone. That said, I found some of the stories in this anthology more polished than others. In A Christmas Maggie, Tiffany Reisz tells a tale very much to the tune of A Christmas Carol where a Dom learns to appreciate the sub in his life. The ghost of his now deceased wife shows him things that he isn't prepared for but it is an awakening. The sexy scenes in this one curled my toes in typical Tiffany Reisz style and I couldn't get enough. Awesome story with a couple of tear jerking moments.
Christmassy was harder to read. I felt like I couldn't connect with any of the characters and was quickly annoyed by the feeling I had missed something. Like in the middle of a series when you just don't know what the heck is going on. I stopped reading mid-way when I couldn't find anything to keep me in the story.
My Midnight Cowboy was stunning and I think my favorite story from the anthology. Pumpkin Spice is a new author for me-partly because of the name. It put me off a bit. But no more. I'm hooked. Her style was absolutely electrifying and I am going to get every book she has. The sensual nature of her sex scenes, the buildup of emotion. Holy wow. Fan girl swoon. Loved it and want more. I hope this book gets released as a series because it would rock the house.
In the Doghouse was an odd story with twerking snowmen and a suddenly dominant next door neighbor. I have to admit it left me a little disjointed. When Nicky stops paying attention to his girl, she retaliates-but it just doesn't seem believable. Her reaction was odd and even with the cool Domme scenes I could not get into this story.
Winter's Daughter was another strange plotbunny. This one centers around a boy and a girl in a ski lodge. The girl is apparently a fairy from another dimension who is battling her sisters for the right to be happy. In this case it involves a random guy at a ski lodge, a key card (mysteriously she had one) and a lot of extracurricular activities. Nothing seemed to fit here. Not the sudden key card from a woman from another dimension to the back and forth between the characters. There was sex but it left me wanting more.
Stealing Time was a great story. It grabbed my attention at the start and didn't let go. The sexy tension between the reaper and the girl he is supposed to kill put me on pins and needles. Excellent holiday story that would do well as a longer novel or series of novellas. Great premise and I couldn't help but want to know more about what happens to these wonderful characters.
Overall, the anthology was a 4/5 for me due to the mixed quality of the stories. Such strong presences by Reisz, Spice and Sparrow made it worth the read and will no doubt have me coming back for more from these authors.
If you want a fun holiday mix, give these stories a try.




Editor's note:
This article was originally published at Long and Short Reviews. It has been republished with permission. Like what you read? Subscribe to the
SFRB's free daily email notice so you can be up-to-date on our latest articles. Scroll up this page to the sign-up field on your right.