She's altogether much too American to ever be an English rose. She'll just have to teach these London elites that there's more to this American heiress than the ability to garner a proposal or three.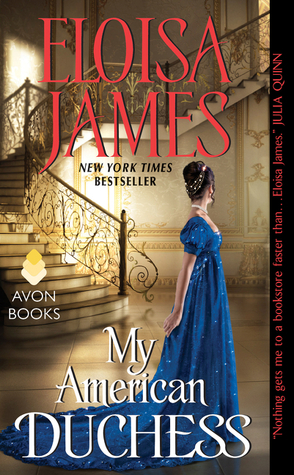 So much to love about this book! First off, Merry is so very American and, first the most part, unapologetic about that fact. She does begin to think that she needs to better emulate the English ladies she encounters but, bless her heart, her blood runs true red, white and blue. I loved her enthusiasm and the fact that while she tried to behave, there were times that she simply had to be herself. The best of those times was actually after she's married to Trent, or Jack, or Duke (they're all the same person and the constant name switching was a little odd.)
Trent or Jack or whichever name he went by, was a swoony kind of hero. He was dark and broody without much reason to enjoy his station in life. And he has an evil (not identical) twin who isn't so much evil as he is just the opposite of Trent. Or at least he tries to be the opposite. I got the impression that there's a lot more to Cedric than what he puts out for the public though he keeps his good parts buried deep. I look forward to seeing more of him and finding out exactly what happened to the Cedric I met in London when he left for the Bahamas.
Back to Trent and Merry, they were refreshing. Their wedding day may not have been the blissful event Merry would have imagined when she finally said "I do" but the moment after he raises her veil and kisses her, that was the moment I could envision their happily ever after. Interestingly enough, it happens well before the end of the book and unlike a much used "had to get married because they were compromised" trope, their's was for even more nontraditional reasons. No, she wasn't pregnant.
Because there was so much story left from the day of the wedding to end of the book, I knew that there would have to be some additional conflict. Actually, there are a couple of issues they have to work through but the main one stems from his childhood and her reputation of falling in/out of love. It was all very understandable and realistic. He had just reasons for wanting to avoid using the "L" word even though it was so obvious to this reader in every move he made where Merry was concerned. As often happens, it took something drastic for him to see what this reader was already very aware of.
On a slightly off note, I have to think Ms. James is possibly a Potterhead. She was in London when this book was written and there are names and places used in this book that had me wondering if she wasn't making subtle nods to the world of Harry Potter. Maybe not but, there's a Mrs. Honeydukes, Merry's dog's name is George and Trent's home place is called Hawksmede (similar to Hogsmead). I could totally be reading something into nothing but coincidence but as a confirmed Potterhead, it still made me smile.
Readers who follow Ms. James writing will find this to be another winner and one that I could cheerfully read a second time to truly enjoy the cleverness in her writing. The way it ends led me to believe that there may be a sequel involving Cedric. Easy recommend from this always entertaining story teller.




Editor's note:
This article was originally published at Long and Short Reviews. It has been republished with permission. Like what you read? Subscribe to the
SFRB's free daily email notice so you can be up-to-date on our latest articles. Scroll up this page to the sign-up field on your right.