This is a very romantic story and sure to please many historical romance fans. For me, the most telling scenes dealt with Lavinia dancing with Tuck. Those were the moments that told me Tuck's fate was sealed. This confirmed rake and bachelor was going to fall but the antics, challenges and surprises which kept him sober also helped make this book a rollicking good read. It was comical seeing a guy so completely out of his element trying to keep up with a woman who tries to be proper and organized and yet manages to discombobulate him every step of the way.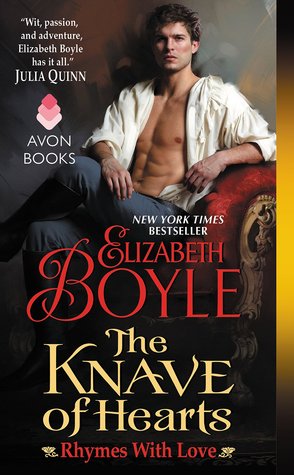 The author painted a wonderful backdrop for her story and her characters, and the ensuing dialogue not only kept me reading but kept the story moving at a brisk and steady pace. A reader will find many reasons to grin and chuckle throughout The Knave of Hearts.
Another point about this novel that pleased me is that the timeline interweaves a bit with the story about Lavinia's sister, Louisa, in The Viscount Who Lived Down the Lane. The Knave of Hearts can certainly stand on its own but for fans of Ms. Boyle's previous story, reading this book about Lavinia next makes it extra fun and interesting. However Lavinia's story comes with its own villain and drama which brings out the hero hidden deep inside Tuck. The ultimate demise of the villain was a shock. I never saw it coming and the sharp surprise made more of an impact and increased the likeability of the novel even more.
As much as there is light heartedness and humor in the telling of Lavinia and Tuck's romance, there is a sad and touching element that haunts both books, and it has something to do with a friend from the past, and some letters. There is a cleansing of sorts, a wrenching off of the band aid of time which forces Tuck to face his fears and regrets. A healing begins between two men and affects a third. It's happy yet bittersweet at the same time.
Tuck also has some fascinating skeletons in his closet that he tries to distance himself from but the author makes those skeletons rattle and come out at the best possible time to have an extraordinary effect on their romance and the suspenseful part of the plot. It was quite enjoyable and kept those pages flipping. I love it when a character is revealed to have more depth and personality than led to believe. Tuck might have started educating Lavinia but she turns the tables and shows him how very improper she can be. Very cool stuff.
The Knave of Hearts is a treat not to be missed. I adored watching Tuck and Lavinia fall in love and I truly believe this is a story well worth reading. The very end of the novel was written so well, it caused me to sigh in romantic bliss – now that's romance.




Editor's note:
This article was originally published at Long and Short Reviews. It has been republished with permission. Like what you read? Subscribe to the
SFRB's free daily email notice so you can be up-to-date on our latest articles. Scroll up this page to the sign-up field on your right.