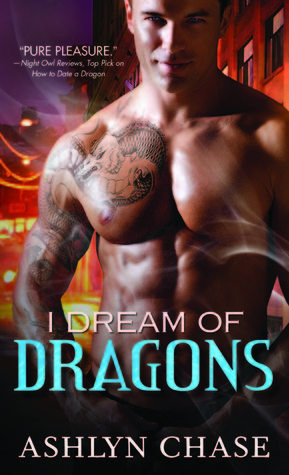 If you're in the mood for a quirky, fun and busy romance, then this is the book to choose. It's busy because the story is told in a panoramic scope with many characters playing roles that affect, help or play practical jokes on the main characters, Rory and Amber. It's quirky because of the characters' personalities and how they play off of each other and it's fun because of the dialogue, the adventure and the romance. There's a lot to enjoy.
I Dream of Dragons is told from four points of view, Rory's, Amber's, a third party and a ghost. Most of the story is told via Rory or Amber but the plot is stirred, poked and prodded by the other two. There are life changing circumstances, a secondary romance, a feud revealed and a plot fueled by greed. There is also references to other characters that more than likely appear in a different series and have crossed over to help give older fans a feeling of continuation, especially if they are well liked characters; and for new readers, a reason for curiosity about how the couples found their own HEAs. As it is, the secondary characters help smooth over the major transitions both Rory and Amber experience.
The positive strength of having all these sub-plots and secondary characters populate the novel is a dual-edged sword. It also has the unfortunate effect of keeping a reader slightly off-balance. If not for the extreme likeability of everyone, the constant shifting would have turned me off. Too many things going on make the story seem like a three-ring circus – I feel like I'm missing something somewhere because I can't concentrate on all three at once and I feel disjointed because the focus is constantly fluctuating. I like a book with a smooth flow, this one doesn't read like that. Nevertheless, it is entertaining, fast moving and its gem is the romance story.
Also, this is a perfect book for readers who do not want a dark edge or intense, stress-filled drama. The conflict is rather mild but it certainly did its job in affecting the plot. Sometimes, people's personality conflicts and how they face life's challenges creates the clash one needs for an interesting tale.
I Dream of Dragons is an easy recommend, especially for dragon fans, paranormal romance fans or anyone looking for a fun, light and briskly entertaining read. The chemistry between Rory and Amber is very apparent and I enjoyed meeting them and watching them navigate their path to love. I had fun.





Editor's note:
This article was originally published at Long and Short Reviews. It has been republished with permission. Like what you read? Subscribe to the
SFRB's free daily email notice so you can be up-to-date on our latest articles. Scroll up this page to the sign-up field on your right.