Romance and mystery, justice and happy endings, suspense and surprises, all are components that make Ghostly Liaison great entertainment and a book worth recommending.
This is a ghost story with heart. It's about a brother's love for his sister, a woman trying to come to terms with why she's even alive and her place in life, her relationship with her parents and the love of a dog that is truly unconditional. There is so much beauty and feeling woven into all the characters it seemed jarring to find a killer stalking some of the characters.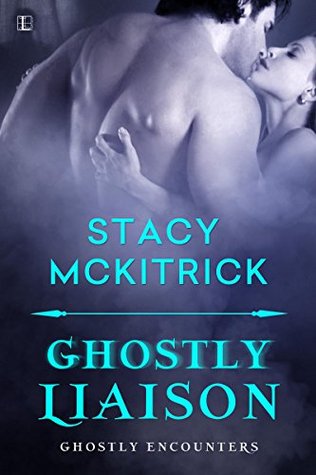 I liked Rob and Bridget. I enjoyed how the author told the story from both their perspectives but in such a way I didn't feel like it was head hopping. It's mostly told from the heroine's point of view because most of the action revolved around her. She had to reconcile the fact that she could see ghosts, that she was falling in love, and she somehow had to eventually accept that she deserved love. I also appreciated how Ms. McKitrick wrote Rob. He's acted like a real man would. I could relate to him because he wasn't some alpha macho over the top hero with crazy skills. He was a man who took chances on love, was loyal, earnest and believed the best in people. Rob was also a person who felt emotions deeply and sometimes, he let them rip. His doing so made me respect his character all the more. He was approachable and eventually, believed in Bridget, all of her. There's nothing more romantic than a man who loves a woman for who she is, not what she believes others expect her to be.
For most of the book, the external and internal conflicts work. The only thing that grew to be a tad repetitive was Bridget's insistence that Rob would be better off without her; that her scars were insurmountable obstacles to any kind of relationship, with anyone, and she didn't deserve the attention of the hero. As a conflict, based on her background, it works to a major degree but there is such a thing as overkill and I think for some readers it might have reached that; for others it might teeter on the line of their tolerance level. Rest assured she gets beyond it, but it takes some serious drama and suspense from the villain to catapult her to clearly seeing what is truly important in life. It becomes crystal.
Barnaby is a wonderful touch for a supporting character and I really believe his role was pivotal in this novel. I liked Kate and the cute interaction between the next door neighbors. There were so many elements that gave this story a depth of emotion that it engaged me all the way through.
Ghostly Liaison is a wonderful blend of romance and crime-solving mystery that's easy to recommend to readers. I really enjoyed myself even when I almost came off my chair at the part with the reptile. Yeah, that was writing at its best.




Editor's note:
This article was originally published at Long and Short Reviews. It has been republished with permission. Like what you read? Subscribe to the
SFRB's free daily email notice so you can be up-to-date on our latest articles. Scroll up this page to the sign-up field on your right.