There's a reason for everything and sometimes the most important battle we fight is one that allows us to forgive ourselves.
Finding Gabriel is historical romance about a wounded hero and the heroine who teaches him how to be brave off the battlefield. Together, they learn to live again and reasons to love again. It's a beautiful and poignant story of healing the wounds that can be seen and the deeper, potentially more fatal wounds that can't be seen, This is a smoothly written novel that took me back in time to live each and every scene in detail.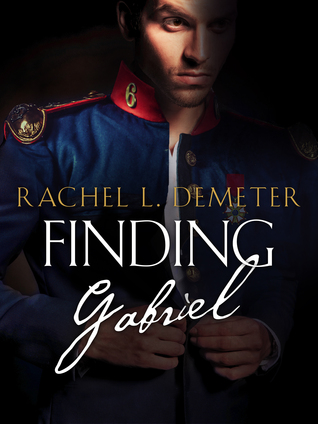 Gabriel is a commander, a soldier who have fought wars and came home when others of his squad didn't. War is never easy on anyone but especially for those on the front line. What made this book more personal, more real is that Gabriel is fighting an internal war that is every bit as harsh and painful as what he sees on the battlefield. PTSD is more in the forefront of national news today but it isn't a new condition since wars have been fought since the beginning of time. Gabriel's a hero who doesn't want the notoriety, he welcomes and even pursues death. When death alludes him on the battlefield he takes matters into his own hands. Fate has other plans and sends him an angel in the form of widower and single mother, Ariah.
Ariah is the wife of a soldier who has not answered his letters in months. She fears the worst. When she finds a floating almost dead body of Gabriel in the River Seine. She cannot find in her self to let him die. Ariah was an easy heroine to cheer for. She's not had an easy life, she wasn't a part of the French aristocracy, she's a commoner who was dealt a bad home life and chose to make a better life for herself and her daughter.
When I originally chose this book, I first noticed the page count and thought It would take me at least a couple of days, if not longer, to finish it. I couldn't put it down and ended up reading straight through. The story flows seamlessly and the emotions, especially for Gabriel, are just so raw. The romance builds slowly between Gabriel and Ariah but the timing is perfect.
This book is a must read for those who want to experience a man taken to his lowest possible point and then the glory of healing love. This is one of those stories that you still feel even after the last page. Pick up a copy and be prepared to immersed into beautiful world building and characters who steal your heart.




Editor's note:
This article was originally published at Long and Short Reviews. It has been republished with permission. Like what you read? Subscribe to the
SFRB's free daily email notice so you can be up-to-date on our latest articles. Scroll up this page to the sign-up field on your right.